London, April 18th 2011 – Blyk, the mobile messaging media company, today announces it has extended its relationship with Orange UK, by being appointed to manage all elements of the operator's media sales program, and support the company's commercial ambitions in developing advertising revenues from its successful "Orange Shots" service.
Blyk has worked with Orange since 2007 and extended that relationship by exclusively providing its Blyk media service in 2009. More recently Blyk has secured its position as a commercial partner of Orange providing strategic support for the creation, deployment and on-going management of the operators media and advertising messaging propositions. With immediate effect Blyk will build a media sales function in the UK dedicated to the operators mobile advertising service – 'Orange Shots'.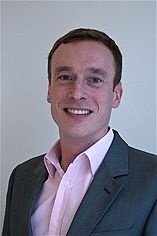 Alex Franks
Orange Shots is a powerful service that uses Blyk's messaging media format, enabling brands to engage and interact directly with targeted segments of the Orange customer base.
In support of its ongoing work with Orange, Blyk has hired Shaun Jordan from Ids who joined the business as Sales Director on April 1, 2011. Shaun brings over 18 years advertising experience to the Blyk team from both agency and media sales. In that time Shaun has developed an extensive network that will help Blyk build a presence in the market quickly. Eoghan Blake and Ryan Carter also join the sales team and will be followed by more hires in the coming weeks.
Alex Franks, Country Manager for Blyk UK, says "I am delighted that Orange has invited us to bring our media experience in mobile advertising into the already strong partnership that has grown between our two organizations over the last four years. We believe that a commercial approach to the advertising market that is solely focused on messaging will reap significant ROI for advertisers. I'm equally pleased to welcome Shaun, Ryan and Eoghan to our growing UK business."
ends –
About Blyk
Blyk is a mobile messaging media that works with operators to link young people with brands and other stuff they like. Blyk launched its innovative mobile service in the UK in September 2007 and quickly became known as a leader in mobile advertising, audience engagement, and for its ability to drive unprecedented response rates and return on investment for advertisers.
Blyk pioneered the use of interactive text and multi-media messaging as an advertising format, leveraging the most predominant, everyday behaviour of young people (sending and receiving messages on their phones) and enabling young people to communicate with brands in the same way they do with everyone else. Blyk has offices in Helsinki, London, Amsterdam, Singapore and New Delhi. For more information, please visit www.blyk.com and blog.blyk.com.
For further details, please contact:
Alex Franks, UK Country Manager, email alex@blyk.com, mob +44 7815 893 761
Irène Nyberg, Head of Press and Analyst Relations, email irene@blyk.com