Company commemorates a quarter of a century of supporting organisations to consolidate, store, protect and share data
ASHTEAD, UK – 26 September 2019 – BridgeHead Software, a leader in healthcare data management, marked its official 25th anniversary at the end of August; and reaffirmed its ongoing dedication to helping healthcare customers deliver the highest standards of patient care by consolidating, storing, protecting and providing access to vital patient and administrative information.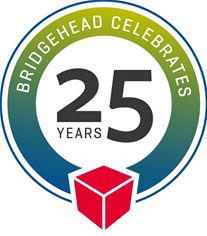 BridgeHead 25th Anniversary logo
Founded in 1994 by its current Chairman of the Board of Directors, Tony Cotterill, BridgeHead Software has grown into an international supplier of healthcare data management solutions with offices in the UK and US; supporting over 1,200 hospitals worldwide.
BridgeHead's Evolution: The Journey to Healthcare Data Management
In 1999, after an initial period providing consultancy to US software organisations wishing to enter the European market (a clue to the origin of its name), BridgeHead Software, now joined by CTO Gareth Griffiths, began selling storage software following the acquisition of Raxco-UIS, the storage business of the now defunct Multistream Systems Ltd.
In 2001, BridgeHead conducted a successful project to build a storage solution for MEDITECH, a provider of integrated and interoperable electronic health records (EHR) software. BridgeHead then went on to take advantage of a gap in the market to provide MEDITECH's customers with storage agnostic backup, disaster recovery and archiving solutions; and its healthcare business was born.
Talking about BridgeHead Software's transition from a data management and protection company to its current position as a specialist healthcare data management provider, Tony Cotterill, BridgeHead Software's Founder and Chairman of the Board of Directors said, "From our roots as the only data management provider that can store, protect and share healthcare data across all hardware and operating systems, BridgeHead Software has grown out from the MEDITECH ecosystem into a full data management and protection provider for all healthcare organisations.
"When we started working in healthcare it was apparent that, while health systems had enormous expertise in creating clinical applications to support delivery, their ability to manage and protect their data was poor. Bringing BridgeHead Software's heritage as a data management specialist and applying that into the healthcare environment created a symbiotic relationship that continues to flourish to this day."
BridgeHead's Ethos Remains Unchanged
BridgeHead has long held the view that data is the lifeblood of healthcare. Data leads to information, which leads to knowledge, which leads to better clinical decisions and patient outcomes. But, for healthcare information to be truly available as part of the longitudinal patient record, safe and useful throughout its lifecycle, it must have independence from both the application that creates it, and the storage on which it sits, i.e. it should not be locked into departmental silos.
BridgeHead's Healthcare Data Management solutions exist to provide a layer of management and protection that works with all hospital applications and storage hardware, regardless of vendor. That way, data remains available to the creating application, but can also interoperate with other applications, such as electronic medical record (EMR) solutions, clinical portals or other systems used within a healthcare setting.
Jim Beagle, President and CEO at BridgeHead Software said: "As we celebrate our 25th anniversary, it's important to remember why we exist as a business. We believe in the importance of data and how it can fundamentally improve the quality of healthcare. When I joined the company in 2011, the healthcare landscape was a very different place: data was exclusively an IT concern; the industry lagged behind others in terms of cloud adoption and cutting-edge technology use; healthcare providers relied on services provided within many disparate, departmental silos; and large suppliers and contracts dominated. Even within a hospital setting, access to a 360-degree view of patient information was considered a 'pipedream', let alone across the wider healthcare economy."
He adds: "Today, it's widely recognised that data is a strategic asset to healthcare organisations. With the emergence of a new generation of trailblazing healthcare CIO/CDIOs and CCIO/CMIOs, this message is reaching hospital board executives to affect real positive change for patients and clinicians, with interoperability and open standards now a key part of healthcare policy. BridgeHead Software has played a part in helping many UK and US healthcare providers deliver on this to improve patient care – something everyone at BridgeHead can be inordinately proud of."
BridgeHead: The Next Chapter
BridgeHead Software is well positioned to capitalise on the next major drivers shaping healthcare IT. The massive growth in data volumes from personal devices and the need to deliver more joined up systems across the ecosystem will push the need to consolidate, store, protect and share data centrally, not tied to the application that creates it, so that the whole health and care community can benefit from a richer information set on which to make better care decisions.
Mr Beagle concludes: "While there is a plethora of new technologies that promise to deliver real benefits to patient care, there is a huge amount of work that needs to be done in addressing siloed data and legacy systems. By unlocking the data trapped in these applications, healthcare providers can free up time and resources to improve care and focus on new initiatives."
[ENDS]
About BridgeHead Software
Celebrating its 25th anniversary this year, BridgeHead Software is a leader in data and storage management dedicated entirely to the healthcare industry and is trusted by over 1,200 hospitals worldwide. Today, BridgeHead Software helps healthcare facilities overcome challenges stemming from rising data volumes and increasing storage costs while delivering peace of mind around how to consolidate, store, protect and share clinical, business and financial information.
BridgeHead's Healthcare Data Management solutions are designed to work with any hospital's chosen applications and storage hardware, regardless of vendor, providing greater choice, flexibility and control over the way data is managed, now and in the future. For more information, visit https://www.bridgeheadsoftware.com or follow on Twitter at @BridgeHeadHDM.
For more information
Visit http://www.bridgeheadsoftware.com
Follow the BridgeHead Software blog
Follow us on Twitter
Follow us on LinkedIn
Like BridgeHead Software on Facebook
BridgeHead Software Media Contacts:
UK and EMEA
Joanna Clark
Mantis PR
Mobile: + 44 7519 105 488
Email: joannaclark@mantispr.co.uk