Eptica research also finds three quarters shun Black Friday online
Reading, UK, 2 December 2015 – Despite record UK sales of £1.1 billion on Black Friday, British consumers are much less satisfied with retail customer service compared to Christmas 2014. 21% of consumers complained that it was impossible or extremely difficult to find information on retailers' websites, a threefold increase from 2014's 7%. This is according to new research from multichannel customer engagement software provider Eptica.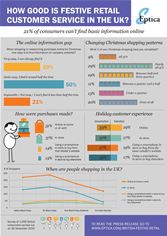 Eptica Christmas Retail UK infographic
Released today, the 2015 Eptica Retail Black Friday Customer Experience Study surveyed the customer experience around festive shopping, particularly Black Friday and Cyber Monday, in both the UK and United States.
It found that American shoppers were marginally less happy with service levels than their British counterparts, highlighting widespread dissatisfaction with the customer experience on both sides of the Atlantic. One third (33%) of British consumers and 35% of those in the US are unhappy with the online experience, a figure that rises to 37% for shops in the UK, and 40% in the US.
In the UK many are also leaving their Christmas shopping until after the Black Friday/Cyber Monday rush. While 24% bought items online on Black Friday and 12% on Cyber Monday, 49% hadn't made any purchases before the end of November. 17% had bought items in store on Black Friday, while 63% had not yet made any purchases on the High Street at all. In fact, a fifth (20%) said they hadn't yet started their festive shopping at all, with a further 13% completing under a quarter of their intended purchases. 9% of organised UK respondents had finished shopping, with another 29% having completed over three quarters. This demonstrates that retailers need to ensure that they have the resources and technology in place to deliver fast, accurate service throughout the Christmas season, rather than just around Black Friday.
"Black Friday 2015 may have seen record sales, but it has not been matched by the high levels of service that consumers demand," said Olivier Njamfa, CEO and co-founder of Eptica. "Three times more British shoppers than in 2014 complained about not being able to find the right information when shopping online, highlighting basic flaws in how retailers are approaching the Christmas period. Given that consumers are becoming more demanding, and want to increasingly use channels such as mobile, retailers need to improve the experience before their customers simply go elsewhere."
A significant minority of consumers are also using their smartphones to buy when they are in store. 14% bought from the website of the retailer they were in but 13% purchased instead from a rival. This lags behind US figures of 23% and 20% respectively but, given US trends normally spread across the Atlantic, it highlights what may happen at Christmas 2016 in the UK. Clearly companies need to work on their mobile customer service, with over half of those that bought in store via smartphones complaining about the service – 57% in the case of those purchasing from the retailer they were in, and 53% if buying from another company. This shows the importance being able to provide the right information at the right time to customers to help them move swiftly through the purchasing process, whatever channel they are using.
Other key findings from the research were:
29% of UK consumers are extremely satisfied with the online experience, with 33% unsatisfied
37% of Britons are unhappy with the experience in store, with 27% extremely satisfied
31% of Americans had completed three quarters or more of their festive shopping – against 37% of Britons
18% of US consumers complained that it was impossible or extremely difficult to find information on retailer websites, against 21% in the UK
The 2015 Eptica Retail Christmas Customer Experience Study is based on consumer research conducted by Toluna with 1,000 UK shoppers and 1,000 American shoppers on 30 November 2015.
An infographic illustrating the results is available from:
PDF: http://www.eptica.com/sites/default/files/eptica_christmas_retail_infographic_2015.pdf
JPEG: http://www.eptica.com/bf_info_15
-Ends-
About Eptica
Eptica is the European leader in multichannel and multilingual customer interaction management software, covering the email, web, social media, web chat and agent channels. Available on premise or as a Software as a Service (SaaS) solution, the Eptica Customer Engagement suite enables organisations to improve engagement with customers, increase efficiency and drive sales by delivering fast, consistent and personalised responses to their queries, through their channel of choice.
The Eptica customer engagement platform is designed around a central knowledge base, powerful workflow and Eptica Linguistic Services™, advanced linguistic capabilities that enable organisations to quickly understand the tone, sentiment and context of digital interactions and automatically deliver personalised service.
Today, more than 400 organisations across all industries and in 15 countries rely on the power of Eptica's platform. They include AXA, Dixons Carphone, Domestic & General, AirAsia, Hastings Direct, L'Occitane, TUI, Debenhams, Capita and Ageas Insurance Solutions. Eptica's continuing innovation and strong performance has resulted in the company's inclusion in Gartner Magic Quadrants for the last five years. In 2015 it was included in the Magic Quadrant for the CRM Customer Engagement Center, for the second consecutive year.
For more information visit http://www.eptica.com/, connect with us on LinkedIn, follow us on Twitter, Facebook or read our blog.
For further information, please contact:
Measures Consulting
Chris Measures +44 (0)7976 535147 chris@measuresconsulting.com
Eptica
Pauline Ashenden, Marketing Manager, +44 (0)118 949 7072 pauline.ashenden@eptica.com