Keboola and Looker will team up to deliver, this 13th of September, an event all about defining an ideal BI stack to support London's businesses in becoming more data-driven.
During this event you will have the opportunity to learn from companies such as HomeAway and Growth Street on their strategies in crafting the best BI tech stack to support your journey into digital transformation with especial attention towards marketing automation processes to shape business success.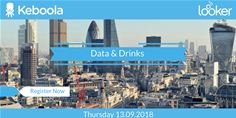 Data & Drinks with Kaboola and Looker
After a successful Data Festival event during the London Tech Week, Keboola decided to continue supporting these types of events and partnered this time with Looker. Together they will bring to London an event on topics which often present uncertainty and doubt and when it comes to data management and becoming data-driven. In an economy that requires businesses to become data-driven, it is very confusing deciding the best root to go with.
During the night, while enjoying some drinks at one of the best Data Science hubs in London, Shack15, Guy Keren, Software Engineer at HomeAway, will be talking about the marketing automation process he and his team have put in place to drive traffic to their successful website and optimise recommendations, as a result creating a high-end service that satisfies their audience. HomeAway, acquired by Expedia Inc. in 2015, is a successful vacation rental marketplace with more than 2,000,000 vacation rentals in more than 190 countries around the world and has had proven exponential growth throughout these past years.
During the night Dylan Baker, Business Intelligence and Analytics Lead at Growth Street, will be sharing his experience in building a BI stack that can respond to strategies in becoming data-driven. He will disclose the logic and the models used to achieve that. Growth Street offers UK businesses a faster alternative to bank overdrafts to respond to a businesses' need to have more flexibility in managing their cash flow. Established in 2014, Growth Street experienced exponential growth thanks to the use of their data to define and predict demand.
The meetup organised by Keboola UK and Looker will be hosted in the heart of London's Data Science scene, the Data Science Hub: Shack15. You can register and find more details about the event here http://bit.ly/2Mqr0cb.
Come away with an understanding of the following:
Drive company growth by relying on and trusting data
Define a BI stack that responds to your strategies, for either an established company or a tech company in the upscaling process
Understand the models and the logic behind a successful BI stack which is easy to consolidate in any business model
Move from keeping data in silos to a unique source of truth
Tickets for the event are available here http://bit.ly/2Mqr0cb. Come and join us in a beautiful location 10 minutes away from Liverpool Street and network with peers while learning from Guy and Dylan on how they succeeded in their journey of data-driven growth.
HINT: the McKinsey Global Institute indicate that data driven organizations are 23 times more likely to acquire customers, six times as likely to retain those customers, and 19 times as likely to be profitable as a result. Also, a recent report from EY reveals that whilst 81% of organizations support the notion that data should be at the heart of everything they do, the vast majority continue to keep data in silos, thus strangling their efforts at birth. Don't be part of that 81%, start doing more with data, and do it intelligently!
About Keboola:
Keboola simplifies data worlds by providing a single SaaS platform to bridge the gap between data sources and visualization tools. Keboola allows clients to achieve more with less by enabling them to focus where it matters, eliminating mundane operations and maximizing impact by leveraging skills and resources. Customers enjoy drastically reduced time to market, as well as the comfort and capabilities for data products that internally-built architectures simply can't deliver.
About Looker:
Looker is an inventive software company that's pioneering the next generation of business intelligence (BI).
Looker believes that businesses can only thrive when data is consistently defined and easily accessible across the entire organization. Their web-based platform powers the work of data analysts while fueling (and fulfilling) the business user's curiosity. Looker is creating true discovery-driven businesses and unlocking the value of their data, one customer at a time. This drastically reduces time to market, as well as the comfort and capabilities for data products that internally-built architectures can't deliver.