Restaurant group is first to reveal impact of mobile technology
New members increasing by 230% per month, 39% of app users are repeat diners
Average spend increasing 2.4% per month
London, UK, 19th February, 2015: Busaba Eathai, the UK's leading Thai restaurant group, has revealed business impact and usage figures for its loyalty application, powered by mobile payment technology provider MyCheck. Busaba is the first full-service restaurant to release these statistics, setting the benchmark for mobile loyalty in the hospitality industry.
Busaba, which has 12 restaurants across London, and opens its flagship venue in Shoreditch on the 18th February, first implemented MyCheck's mobile technology in summer 2014. Through the app customers are able to check-in, receive relevant offers, make a payment using a debit or credit card, or the customer's PayPal account, and leave without waiting for the bill. The app includes a loyalty scheme called 'Path to Enlightenment', which uses gamification to provide customers with incentives, such as their favourite dish for free.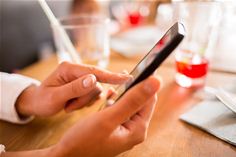 Restaurant
During January 2015, Busaba ran an advertising and direct marketing campaign for any customer using the application.
Usage and business impact figures for July 2014 and January 2015 are as follows[1]:
- New members: Increasing by an average of 230% per month
- Repeat users: 39% of app users are repeat diners, contributing 67% of daily transactions. Repeat visits from app users are increasing by 6.9% per month
- Revenue: Daily transactions have doubled from December to January
- Average spend: Increasing by 2.4% each month[2]
- Conversion rate: 74% of registered users have used the app to check-in and pay
- Engagement: Open rate for January emails was more than twice the industry standard[3]
In our experience loyalty comes when customers recognise they are valued, and receive relevant engagement that reflects their special status. In turn, we learn more about our customers and how we can better serve them. This is subtle but significant change in how to approach loyalty, where industry style basic discounting is replaced by sophisticated schemes made possible by mobile," said Jason Myers, CEO, Busaba Eathai. "The app has become a critical tool, in our success as a business in an increasingly competitive environment. On checking the statistics reports we noticed that, one day in January that more than half of those that used our app were repeat users – a staggering statistic. We're only just starting to tap into the potential of mobile."
"We are positive about sharing these insights with the industry, as it shows there is a better way to drive customer loyalty than discounting" added Myers.
"The majority of restaurant loyalty programs are pretty generic and uninteresting. They typically involve sending coupons or other offers designed to entice customers to visit the restaurant during quiet times or periods of economic uncertainty," said Gil Hazan, VP for Europe, MyCheck. "Increasingly we are seeing restaurants use mobile to give their customers a more personalised, memorable experience - one that begins in the restaurant and continues, through digital engagement, after they leave. Busaba's success is evidence that mobile is able to deliver on its promise, to make a significant, and critically sustainable, business impact."
"The Busaba app is really intuitive and easy to use. Paying the bill is so much easier and efficient. And of course the enlightenment rewards are highly addictive to earn and redeem. Can't wait to climb up all the tasty steps and become fully 'enlightened'," said Busaba app user Muhammad.
The MyCheck mobile payment and loyalty application is integrated into Busaba's existing Mission EPOS system, where the waiter receives an alert to say the bill has been paid and the account can then be closed.
Note to editors:
[1] Statistics are based on usage at twelve Busaba sites between 1st July 2014 and 31st Jan 2015
[2] Average spend statistics are from 1st July 2014 and 31st December 2014
[3] Based on Mailchimp benchmark of 22.56%
For more information download the case study here: http://info.mycheckapp.com/case-study
- ENDS -
Editorial contacts
Hayley Myles, CCgroup for MyCheck
MyCheck@ccgrouppr.com / +44 (0) 203 3818 7189
About MyCheck
MyCheck is a technology platform that enhances the merchant and user experience in hospitality via POS integrations. MyCheck allows restaurant groups and chains to own their own customized and branded mobile experience, either inside an existing app or in a new app that the company will develop for the brand. The platform is modular, so the operator chooses which functionalities to incorporate - pay-at-table, pay-at-counter, loyalty, CRM outreach, order ahead, delivery, etc. It is integrated with more than 27 POS systems.
After implementing the technology, merchants end up with not only a simplified and faster payment process, but more importantly, they discover powerful new ways to engage with their customers and deliver better customer service. Popular with restaurants, MyCheck lets customers settle and split the bill between friends, order a takeaway and even leave a tip without waiting for service staff.
For more information see http://uk.mycheckapp.com/
About Busaba Eathai
Conceived by Alan Yau with the first branch opening on Soho's Wardour Street in 1999, Busaba Eathai is a modern Thai eatery. Busaba is a Thai flower, and Eathai is a fusion of the words 'eat' and 'Thai'. Differing from formal dining establishments, Eathai represents a Thai casual dining venue, offering a simple yet sophisticated menu devised to feed you with minimal fuss.
Fifteen years on, Busaba still offers a much coveted flavoursome selection of freshly prepared stir fries, soups and curries. The menu also features Asian-inspired juices and smoothies, as well as a simple yet selective wine list.
For more information see http://www.busaba.com/