One of the UK's leading business experts has launched a new e-book to help growing organisations achieve predictable success.
Secrets of High Growth Companies is now available on Amazon, to read on Kindles and other e-readers. In it, author Stuart Ross shares his knowledge on how entrepreneurs can turn their businesses into high growth companies.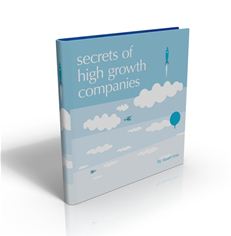 Secrets of High Growth Companies
Stuart Ross is generally considered to be one of the country's leading experts in his field. His work has led him to launch Boots in Japan and Boots online. He also works with businesses in Silicon Valley in the US, to help them grow in a fast but stable way.
The e-book includes easy-to-implement tips and strategies for particular businesses to overcome a variety of situations, with clear advice for readers of any business experience.
"I wanted to give more businesses insights and strategies to help them on their growth path, in a quick easy read format" explains Stuart.
"By following a specific set of best business practice rules and formula, there's no reason why any profitable organisation can't become a high growth one. This book is an easy way for entrepreneurs and established managing directors to gain the knowledge they need to make that happen rapidly.
"There's a lot of misinformation around about how to grow a company, but our step by step process has been honed and proven and achieved transformational results in over 500 businesses. The feedback so far has been fantastic!"
Secrets of High Growth Businesses is available as an e-book via Amazon.co.uk for £2. For more details on Stuart Ross and his work with high growth businesses, visit www.high-growth.co.uk
Further information:
Please contact Max Bevis or Trevor Palmer at Tank PR by calling 0115 958 9840 or email max@tankpr.co.uk / trevor@tankpr.co.uk.