The lightweight, business rugged, 2-in-1 detachable notebook with 12 inch display has model looks but is powerfully equipped for business
BRACKNELL, UK. 27TH JUNE 2017 The latest Panasonic Toughbook 2-in-1 business rugged notebook wins in both the business and style stakes. The Panasonic Toughbook CF-XZ6 is one of the world's lightest, business rugged, 2-in-1 detachable notebook with a 12 inch display. Sleek and lightweight in design, this detachable will be the envy of any mobile worker. With its business rugged design, 14 hours battery life, powerful latest generation Intel processor and multiple business ports, the device more than matches the needs of any busy executive.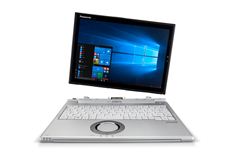 Panasonic Toughbook CF-XZ6
The Panasonic Toughbook CF-XZ6 notebook is ideal for white collar workers that need computing power on the move. It brings the flexibility of a lightweight tablet with notebook functionality in a single device that can take the knocks and drops of business life. It is ideal for sales workforces across any industry, health professionals, market researchers, and those in government agencies.
"Any executive would be proud to use this business laptop in front of a customer or prospect," said Jan Kaempfer, General Manager for Marketing at Panasonic Computer Product Solutions. "It has to be one of the best looking business devices on the market. Its stylish good looks and super slim design, alongside its powerful business capabilities and durability bring together all the manufacturing excellence of the Panasonic Toughbook range in one device."
Touchscreen clarity
The fourth 2-in-1 detachable in the Panasonic Toughbook range, this latest device has a 10 finger touchscreen, 12" Quad High Definition display (2160x1440 pixels) with 3:2 aspect ratio for crystal clear clarity.
Light & durable
The tablet is super-light, weighing just 640 grams, and the tablet with keyboard weigh in at just 1.18 kg. Yet its business rugged design means Panasonic's traditional low failure rates with the device designed to withstand drops of up to 76cm.
Long lasting
The tablet has its own 4 cell battery and can operate standalone for up to 6.5 hours. The keyboard area has an additional, user replaceable, hot swappable, 4 cell battery delivering up to 14 hours in notebook mode. The device has an 8GB memory and 256GB of storage.
Powerful for business
Powered by the latest 7th generation Intel Core i5-7300U vPro processor, with the Windows 10 Professional operating system, the Toughbook CF-XZ6 notebook has a full set of business ports, including LAN, HDMI, USB 3.1(Gen 1) Type C and USB 3.0. It is Bluetooth v4.1 and WLAN Intel® Dual Band Wireless-AC 8265 equipped with a 4G LTE option. A Full HD Windows Hello capable webcam and 8MP rear camera are standard.
Accessories include an Active Pen, 4 cell battery for the keyboard area, anti reflective film and privacy filter for the display.
European pricing and availability
The Panasonic Toughbook CF-XZ6 comes with a standard 3 year warranty and will be available in July 2017 priced at £1539 plus vat.
Press contact:
Michael Bartley
The Amber Group
michael@ambergroup.net
+44 (0)118 949 7750
About Panasonic System Communications Company Europe (PSCEU)
PSCEU is the European branch of Panasonic Systems Communications Company, the global B2B division of Panasonic. PSCEU's goal is to improve the working lives of business professionals and help their organisations' efficiency and performance. We help organisations capture, compute and communicate all sorts of information: image, voice, and textual data. Products include PBX telephone switches, document printers, professional cameras, projectors, large visual displays, rugged mobile PCs and fire alarms solutions. With around 400 staff, engineering design expertise, global project management capability and a large European partner network, PSCEU offers unrivalled capability in its markets.
PSCEU is made up of four product categories:
Communication Solutions, including professional scanners, multifunctional printers, telephony systems and SIP terminal devices.
Visual System Solutions, including projectors and professional displays. Panasonic offers the widest range of Visual products, and leads the European projector market with 28% revenue share. (Futuresource B2B market tracking, Q1/2014)
Professional Camera Solutions, including Broadcast & ProAV products, security, fire alarm systems and industrial medical vision (IMV) technology. Panasonic is one of the top two professional camera vendors in Europe.
Computer Product Solutions helps mobile workers improve productivity with its range of Toughbook rugged notebooks, Toughpad business tablets and electronic point of sales (EPOS) systems. As European market leaders, Panasonic Toughbook had a 67% revenue share of sales of rugged and durable notebooks and Panasonic Toughpad held a 56% revenue share of sales of rugged business tablets in 2016 (VDC Research, March 2017).
Disclaimer:
All brand names shown are the registered trademarks of the relevant companies. All rights reserved.
All working conditions, times and figures quoted are optimum or ideal levels and may differ as a result of individual and local circumstances.
Specifications, product availability and price given herein may be changed at any time without prior notice.