For the first time, Ring introduces smart lights and indoor/outdoor cameras to the Ring of Security.
LAS VEGAS - Jan. 8, 2018 - Ring, the leader in home security, unveiled at CES 2018 its whole home security ecosystem, which includes several new security devices that bolster the Ring of Security around homes and neighbourhoods. Among the new products are two new indoor/outdoor security cameras and a line of smart, connected outdoor lights, called Ring Beams.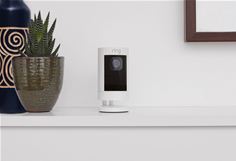 Stick up cam Indoor
Click here to watch the video showcasing how Ring is changing the way homes and neighbourhoods will be secured in 2018: https://www.youtube.com/watch?v=hXXWWDV3JdM&feature=youtu.be
Jamie Siminoff, Chief Inventor and Founder of Ring, said: "In order to execute on our mission of reducing crime in neighbourhoods, homeowners need security that is affordable, proactive, easy to install, and comprehensive. All Ring Cams, Doorbells, and Beams are integrated so homeowners can create a complete security system with custom zones, commands and settings to best deter thieves. As we continue to innovate and layer new Cams, smart lights, and Doorbells into the Ring of Security, we're going to make being a burglar in 2018 a very tough job."
Indoor/outdoor security camera
Two-way audio
Advanced motion sensors with zone detection
1080p HD video
Power of Ethernet (POE) or standard wall outlet
Wi-Fi or POE for internet
Indoor/outdoor security camera
Weatherproof
Battery-powered
1080p HD video
Two-way audio
Passive Infrared Sensor (PIR) motion sensors with zone detection
Compatible with Ring's Solar Panel Charger
Ring Beams
Ring recently acquired Mr Beams, an innovative LED lighting technology company, in order to integrate additional smart lights with its security devices.
Patented smart, outdoor security lights
Integrates with Ring app and all Ring security Cams and Doorbells
Pathway lights
Step lights
Spotlights
Ring's neighbours will have the opportunity to view Ring's new, professionally monitored home security system, which will begin shipping to US customers in Spring 2018, with international rollout scheduled to begin later in the year.
CES 2018
Stop by the Ring booth (Sands, Halls A-D - 42525) at CES 2018 January 9-12 to learn more about Ring's new security devices coming in 2018. Ring will host a press conference at 1 p.m. PT on January 10 at its booth with Ring spokesperson Shaquille O'Neal and Ring founder Jamie Siminoff to discuss all the new Ring products and features coming in 2018. In addition, Ring Spotlight Cam, a 2018 CES Innovations Awards Honoree, will be on display in the Innovation Showcase, Tech West, Venetian Ballroom E/F. Ring will also be exhibiting at Pepcom Digital Experience! at The Mirage on January 8 and Showstoppers at the Wynn Hotel on January 9.
Click here for images and other media assets: https://www.dropbox.com/sh/0djdnckdb0ju6k8/AAAJ3EjX-Ei8Vaa17gOROCNla?dl=0
About Ring
Ring's mission is to reduce crime in neighbourhoods by creating a Ring of Security around homes and communities with its suite of home security products. The Ring product line enables Ring to offer affordable, complete home and neighbourhood security in a way no other company has before. In fact, one Los Angeles neighbourhood saw a 55 percent decrease in home break-ins after Ring Doorbells were installed on just ten percent of homes. For more information, visit www.ring.com. With Ring, you're always home.
###
Media Contact:
Anna Rawson/Mark Dickens/Jemma Magrath
Atomic PR
Ring@atomicpr.com
+44 (0)203 861 3816