ECI can be used for any power conversion scenario and will also allow for bi-directional use
Belgium, February 24 2016: CE+T Power, award winning global power and electricity specialist, today announced the launch of its Enhanced Conversion Innovation (ECI) technology, the most efficient technology of its kind.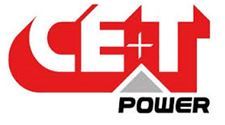 CE+T Power logo
ECI provides three high-efficiency energy converters and an energy buffer in a single module to provide polyvalent power conversion for critical systems at up to 96% for AC/AC and 94% for DC/AC and AC/DC efficiency. It also can be used for any power conversion scenario and will also allow for bi-directional use.
"We have studied the history of this sort of technology and analysed what we think the future of power conversion will be. From this, we have created a technology that is more advanced than any other product available," said Olivier Bomboir, VP Product Management & Business Development at CE+T Power.
ECI leverages CE+T's Twin Sine Innovation (TSI) technology, an AC backup technology that combines all power conversion possibilities with a storage capability. Features of ECI include double conversion AC to AC, bi-directional DC/DC, hybrid system DC and AC load, and an AC input power factor greater than 0,99.
"At 94%, ECI has the most efficient DC/AC conversion currently on the market," said Mr Bomboir. "We are also working a phase 2 of the technology that will have multiple conversion possibilities and allow for the set-up of each conversion stage to work in one or two directions depending on the final usage of the product in which it will be integrated."
ECI's high efficiency modes can also help lower customer's TCO and allows them to invest in more data and not more power thanks to its power density, diminished upstream circuit sizing, diminished cooling infrastructure sizing, ease of installation and large panel of solutions.
"The product is very user friendly and gives the user peace of mind as there is no single point of failure thanks to its true redundant, hot swap self-containment," said Mr Bomboir. "We are excited for our customers to experience its unique capabilities and are looking forward to hearing feedback."
For further information about CE+T's ECI technology, please visit http://www.cet-power.com/en/tech/eci or see the below contact information for ways to get in touch should you wish to speak to a representative.
A short animation video on how ECI works can also be found at: https://www.youtube.com/watch?v=C35mmycqLA0
Images can be found on Flickr: CE+T Power Albums
ENDS
Media contact:
Kirsty Peasley
Proactive International PR
Tel: +44 1636 812152
Kirsty.peasley@proactive-pr.com
Follow us on:
Linkedin: CE+T Power
Twitter: @cet_power
YouTube: CET Power Marketing
About CE+T Power
CE+T Power is an award winning global power and electricity specialist, who delivers high-end, high-performance backup power solutions. Working primarily across the Telecoms, Industrial and Datacom/IT sectors, CE+T Power specialises in keeping businesses running. CE+T Power specialises in products that guarantee up-time for critical AC load infrastructures and recently developed the most efficient inverter available on the market today. Its goal is to save businesses thousands in running costs and guarantees a fast return-on-investment. For more information please visit http://www.cet-power.com/