Malmesbury, UK - 3rd October 2011, Digital printer, CPC has supplied an end-to-end solution for the online ordering, printing, stockholding and fulfilment of UK Athletics (UKA) coaching materials. This solution enables UKA to provide top class coaching resources and materials through a state of the art eCommerce facility which is seamlessly integrated with their uCoach website.
uCoach is a new online resource for athletics coaches and anyone pursuing an athletics coaching qualification in the UK; a one-stop shop which enables access to information about coach development, coaching qualifications, events, and news. The uCoach Shop is the eCommerce section of the site which uses CPC's 'eDocs' technology and links directly to CPCs own printing and fulfilment hub. Orders taken through the uCoach shop will be taken from stock or printed on demand, packaged and sent out within 24 hours.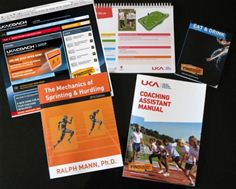 UK Athletics uCoach
"CPC's eDocs solution is perfect for our needs. The online shop is seamlessly integrated with our website making it easy for people to access our growing range of resources and coaching materials," said Tom Crick, Coaching Professional Development Manager for UKA. "CPC will print on demand, fulfil each order and take care of any returns should they be required. This is a fantastic step forward enabling us to bring top class coaching materials to the athletics community. The site has also enabled us to bring classic works, not previously available, such as Ralph Mann's 'The Mechanics of Sprinting and Hurdling' to a much wider audience. This is a really cost effective solution that takes away most of the pain of stockholding and distribution."
"eDocs provides our customers with a top class online store and fulfilment solution. It can be easily integrated with an existing website delivering real peace of mind with no up front costs. We can print resources on demand or put into stock for special events or promotions and deliver them as and when required. Customers can even log in, view stock levels and adjust when needed. There's no need to buy an eCommerce solution, rent warehouse space or organise delivery. We take care of it all," said Kevin Assinder, Managing Director of CPC.
-end-
About CPC
CPC provides a range of highly personalised services that cater for an organisation's modern print, packaging and software publishing requirements, from design through to fulfilment. Holding stock and managing the distribution from the point of manufacture enables us to provide a fulfilment and logistics service that is second to none. And as the world moves from paper to electronic documents we have a developing range of complimentary value added services marketed under our eDocs brand. CPC has a strong environmental ethos, is certified under ISO 14001 for environmental management and Chain of Custody by the Forest Stewardship Council, (FSC). CPC is an ISO 9001 company.
PR Contact: William Allbrook,
T: +44(0)1666 826641
E: william@allbrook.net
About UKA (United Kingdom Athletics)
UK Athletics is the national governing body for athletics and oversees the development and management of the nation's favourite Olympic and Paralympic sport, from grassroots right through to podium. Over the years UKA has matured to generate a clear vision for the sport – to drive up performance and raise standards in every event, every region and every age group. This vision is fuelled by a dedicated team of full time staff and part time volunteers who all share the same passion and ambition for athletics, and are therefore instrumental in ensuring that athletics remains the most popular Olympic and Paralympic sport. Yet the purpose of UK Athletics does not end at preparing athletes for the world stage. Not only does it create mass appeal of a truly breathtaking spectator sport through televised events, but also plays a fundamental role in developing a 'sport for all' by encouraging participation regardless of age, ability or background.