Cambridge UK, 16 July 2014 - CRedit360 (www.credit360.com) has become the first software provider to achieve G4 reporting certification in German by the Global Reporting Initiative (GRI). A long-established GRI technology partner, CRedit360's award-winning sustainability software solution is already GRI-certified in English and Brazilian Portuguese.
With its GRI G4 certification in German, CRedit360 meets the growing demand for sustainability software solutions among businesses in Germany, Austria and Switzerland (the DACH countries). Using the CRedit360 solution also helps companies to prepare for the EU reporting requirements recently made mandatory for companies with more than 500 employees.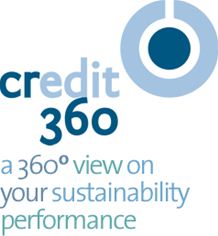 CRedit360 logo
"Our recent G4 certification in German underpins our engagement in helping progressive German-speaking companies meet the GRI's exacting reporting standards and improve their sustainability performance," says Elisabeth Huber, CRedit360 Business Development Manager, DACH region. "It also shows our ambition to deliver first-class solutions to our customers."
The CRedit360 system was independently tested by GRI analysts, who confirmed its technical capabilities and suitability for robust, transparent reporting. In addition to being the only software solution to have achieved German language G4 certification, the system offers streamlined data collection as well as new and more accessible reporting formats.
Diana Wicht, Corporate Responsibility Manager, McDonald's Deutschland appreciates the certification: "As we make the move to G4 reporting, it's great to see a partner like CRedit360 offering a German language option at an early stage. The company's GRI G4 German language certification will be helpful to German-speaking companies keen to prepare the ground for a smooth transition to G4 reporting."
Using the CRedit360 solution, companies can collect relevant information for GRI reporting from multiple stakeholders and benefit from the efficiency offered by integrating the GRI reporting framework within their existing enterprise data management system.
"Our G4 certification gives companies peace of mind that they can trust our system to meet their data management needs as they gear up for G4 reporting," explains Mark Shields, Managing Director, CRedit360. "Data integrity will only become more important in this equation, as businesses complete ever-more rigorous analysis of performance against key material issues."
Spotlight on G4 reporting changes
Companies reporting to the new G4 standard will note an increased focus on materiality and a greater emphasis on measuring the social and environmental impacts of their entire value chain. The GRI advises conducting a materiality assessment to identify the sustainability issues that most affect a company and its stakeholders (including aspects that may not be under its direct control), with a view to focusing the report precisely on these issues. Companies will need to be explicit about the process they followed to determine their material issues.
The GRI's push for more concise, complete and relevant reporting has also seen a change in report structure. The different A/B/C application levels used to categorise G3.1 reports have been replaced with two options: Core and Comprehensive. For every 'aspect' deemed material, the Core option requires organisations to report progress against at least one indicator, while the Comprehensive option requires progress against all indicators to be disclosed. This is intended to help companies maintain a strict focus on material issues and allay concerns that firms may be opting to report against indicators that position their performance in the best possible light.
Finally, companies will now provide details of any external assurance within their report rather than adding a '+' to the application level to indicate that it has been externally assured. GRI now requires an explanation of the assurance scope on a line-by-line basis, which should make it easier for readers to determine which aspects have been assured. The GRI still recommends that companies seek external assurance (although it does not prescribe it).
About CRedit360
CRedit360 helps companies to accurately capture, manage and analyse environmental, safety, supplier and social data; providing a 360-degree view on their sustainability performance. The modular web-based platform allows clients to seamlessly integrate all aspects of EHS and sustainability data management across multiple regions and business units, and rapidly share results with employees and external stakeholders.
Founded in 2002, CRedit360 has over 175 customers including Philips, HEINEKEN, Staples and McDonald's. The company is headquartered in Cambridge, UK, with offices in the USA, Australia and Hong Kong. CRedit360 was recently named as a leader in both the Verdantix 2014 Green Quadrant Environment, Health & Safety (EH&S) Software report and the Verdantix 2013 Green Quadrant Sustainability Management Software report introducing sustainability innovation into EHS management.
For further information, please visit www.credit360.com
For more information:
Chris Measures
Measures Consulting (for Credit360)
+44 7976 535147
chris@measuresconsulting.com