aptX Low Latency opens new opportunities in video and gaming markets for CSR
IFA 2012, BERLIN, Germany - 31st August 2012 - CSR plc (LSE: CSR; NASDAQ: CSRE) today unveiled CSR aptX Low Latency, a new audio coding technology that slashes to one-third the delay, or latency, of stereo audio signals over Bluetooth® connectivity, effectively enabling consumers to watch video while listening to wireless audio in a synchronised fashion. As a result, the product is ideally suited to wireless audio delivery for video and gaming applications – opening expansive new market opportunities for CSR.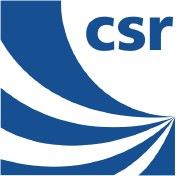 CSR logo
CSR aptX Low Latency for Bluetooth offers a coding delay of just 32 milliseconds (ms) – far less than the standard Bluetooth latency of more than 150 ms, and well under the 45 ms recommended latency for audio/video applications.
"The new aptX Low Latency technology presents an opportunity for CSR to standardise Bluetooth wireless connectivity for audio-visual and gaming applications," said Anthony Murray, Business Group SVP of CSR. "The potential size of these new markets is much bigger than the audio-only market, and gives manufacturers of wireless audio equipment the opportunity to capitalize on the exploding demand for connectivity for gaming, audio/video for mobile devices, and television – without compromising on the quality of the end-user experience."
Although standard Bluetooth technology offers the ability to stream stereo audio wirelessly from mobile handsets and other audio playout devices to headphones and speakers, its bandwidth-constrained audio poses inferior sound, and the latency delay is not suitable for video or gaming applications. CSR aptX audio coding technology is designed to solve both the bandwidth and latency barriers, delivering CD-quality sound wirelessly over Bluetooth connections for a variety of consumer electronics applications – now including video and gaming. CSR aptX Low Latency is now available for license on CSR audio platforms and on Android® OS.
CSR aptX is now deployed by consumer electronics giants including Samsung, Motorola, HTC, Nokia, Monster, and Sennheiser, among many others.
###
About CSR
CSR is a global provider of innovative silicon and software solutions for the location-aware, media-rich, cloud-connected world. Our platforms are optimised for the automotive navigation and infotainment, digital cameras and imaging, connected home infotainment and wireless audio markets. We provide solutions to complex problems in the audio-visual, connectivity and location technology domains across a broad range of markets, with a technology portfolio that includes GPS/GNSS systems, Bluetooth®, Wi-Fi®, FM, NFC, aptX® and CVCTM audio codecs, JPEG, MPEG, H.264 imaging, PDL printing, microcontrollers, DSPs and broadband receivers. CSR's technology solutions and market platforms enable its customers to deliver a superior user experience and are adopted by leaders in the auto, computer, home and mobile markets. More information can be found at http://www.csr.com/. Keep up to date with CSR on our blog, YouTube or follow us on Twitter at twitter.com/CSR_plc
CAUTIONARY NOTE ON FORWARD LOOKING STATEMENTS
This press release contains certain statements (including statements concerning plans and objectives of management for future operations or performance, or assumptions related thereto) that are not historical facts and constitute 'forward looking statements' within the meaning of the United States Private Securities Litigation Reform Act of 1995 in relation to CSR's products and technology, and their performance characteristics in products and technologies designed for the Smart Home, and other future events and their potential effects on CSR. These forward-looking statements can be identified by words such as 'will,' 'can deliver,' offers', 'allows', 'to enhance,' 'enables,' 'designed to' and other similar expressions regarding the performance characteristics of CSR's products and technology, and their performance characteristics in consumer electronics products, and their potential effects on CSR. Any future release of CSR's products and technology or consumer electronics products containing such technology, related products or modifications to such products' capability, functionality or features are subject to ongoing evaluation by CSR and its customers, and may or may not be implemented and should not be considered firm commitments by CSR or its customers and should not be relied upon in making purchasing decisions. Such forward-looking statements represent the current expectations and beliefs of management of CSR, and are based upon numerous assumptions regarding CSR's business strategies and the environment in which CSR will operate and therefore involve a number of known and unknown risks, contingencies, uncertainties and other factors, many of which are beyond the control of CSR, including, but not limited to, those detailed from time to time in CSR's periodic reports (whether under the caption Risk Factors or Forward Looking Statements or elsewhere), which are available at the SEC's web site http://www.sec.gov. Each forward looking statement speaks only as of the date hereof. CSR does not undertake to release publicly any updates or revisions to any forward looking statements contained herein, otherwise than required by law.
Bluetooth® and the Bluetooth logos are trademarks owned by Bluetooth SIG, Inc. and licensed to CSR.
Wi-Fi® is a trademark of the Wi-Fi Alliance.
Other products, services and names used in this document may have been trademarked by their respective owners.
For more information contact:
US:
Lori Evans
Evans Public Relations
+1 (650) 200-5891
csr@evanspublicrelations.com
UK:
Sally Brown
Rocket Communications
+44(0)845 370 7024
csr@rocketcomms.net