Used as Mobile Data Terminals for vital information on emergency calls and for asset management of equipment and inventory
BRACKNELL, UK. 29th January 2019 - Cambridgeshire Fire and Rescue Service is transforming life for firefighters on the frontline by equipping them with Panasonic rugged Toughpad tablets to access vital information during operations.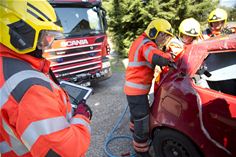 Cambridgeshire Fire and Rescue Service equipped with Panasonic rugged tablets
The service has deployed 13 inch Panasonic Toughbook CF-D1 tablets in the front cabs of its fire appliances. These Mobile Data Terminals (MDTs) are permanently mounted in the front of the vehicle and are connected to the existing Tetra Network. They are being used to provide vital information on the way to a call out, including routing, sending status updates to command and control, meeting risk assessment requirements and locating nearby hydrant locations.
Smaller and lighter 10 inch Panasonic FZ-G1 Toughpad tablets have been installed in the back of the appliances for use by firefighters inside and outside of the vehicle when at the scene of an incident. These devices are used day-to-day for the asset management of equipment and inventory and in the future could be used to provide valuable emergency information on site, such as vehicle crash rescue data, as well as for regular community duties such as Home Fire Safety Checks and Hydrant Defect Management.
John Barlow, the communications project manager and a former station commander with 35 years of experience in the service, is responsible for modernising Cambridgeshire Fire & Rescue Service's frontline communications devices.
"We have invested to change all the existing MDTs to a more agile device to allow the crews to work more efficiently and smartly," he explained. "The Panasonic devices are ideal for all the conditions we work in. We can read the device in bright sunlight and it is built to be used outside and in wet conditions without any problems. Feedback from the fire crews has been overwhelmingly positive and that's partly because they were very involved in choosing the device."
Prior to installation, the fire service carried out a six month field test with one appliance fully fitted with the new Panasonic devices and testing the software and applications. John said that this testing was "worth its weight in gold" as it allowed the team to highlight and resolve any issues well ahead of deployment.
Tablet with Bluetooth barcode reader
The smaller mobile rugged Panasonic tablets in the back of the appliances are used with a Bluetooth connected barcode reader for the asset management of equipment, Inventory and inspections/ checks.
Cambridgeshire Fire and Rescue Service Project Manager Stuart Grey explained that the solution is used for equipment health and safety checks, full inventory checks of equipment on each appliance and for recording use of equipment. In the future, he sees other big advantages for firefighters in being able to use the Panasonic FZ-G1 tablets at the scene of an emergency. For example, at a road accident to identify important information about the safety features of a vehicle, such as airbags, so that they can quickly be turned off before releasing trapped passengers from the car. The fire service is also considering accessing chemical data through the devices to enable firefighters to check if any potentially hazardous materials are onsite during a call-out.
Excellent support
"Panasonic has been incredibly helpful throughout the process," said Stuart, "from helping us design the cabling and installation of the tablets to supporting us with our build of the golden image for the software deployment on each device."
Panasonic Computer Docking Solutions team has designed the mounting solution for the Panasonic CF-D1 tablets in the front of the vehicle. The team utilised as much of the existing infrastructure as possible, such as the power management units, to keep costs down. It also future proofed the vehicles by fitting antennas that will work with the imminent introduction of the new Emergency Services Network. For the rear vehicle mounted tablets, the solution team designed a bespoke bracket for Cambridgeshire that can be fitted on all its vehicles generically. The design also incorporated into the bracket the handheld barcode reader, so that it could be installed in a convenient location next to the tablet.
Smooth deployment
A smooth deployment of the solutions was critical for the fire service as appliances could not be off the road for long periods. Both devices were fitted at the same time. The deployment was scheduled for 10 weeks but was completed well ahead of schedule, in under eight weeks.
For the full video story click: Cambridgeshire Fire & Rescue Service Equips Vehicles With TOUGHBOOK G1 and D1 Rugged Tablets
Press contact:
Kiri O'Leary
The Amber Group
kiri@ambergroup.net
+44 (0)118 949 7737
About Panasonic System Communications Company Europe (PSCEU)
Our quest is to make technology work invisibly together and free businesses to succeed. We believe technology should just work. That businesses will succeed if they can simply focus on their customers, in the knowledge that all the technologies delivering their capabilities work together. That is why we are dedicated to developing products and solutions that are so integrated with our customer's way of working, that they are almost invisible – the workhorse in the background that powers business success.
PSCEU is made up of six product categories:
Broadcast & ProAV gives you the freedom to tell the story with its high quality products and solutions, which ensure smooth operation and excellent cost-performance across a range of remote cameras, switchers, studio cameras and ENG P2HD. The cinema camera range of VariCam models and the EVA1 are capable of true 4K and High Dynamic Range (HDR) making them the ideal solution for cinema, television, documentary and live event production.
Communication Solutions offers world leading telephony systems, SIP terminal devices and professional 'network' scanners giving you the freedom to focus on the communication and not the connection.
Computer Product Solutions help mobile workers improve productivity with its range of Toughbook rugged notebooks, business tablets, handhelds and electronic point of sales (EPOS) systems. As European market leaders, Panasonic had a 57% revenue share of sales of rugged and durable notebooks and tablets in 2017 (VDC Research, March 2018).
Industrial Medical Vision manufactures applications for various segments such as medical, life science, ProAV or industrial. The product portfolio includes complete and OEM camera systems, providing the freedom to see what can't be seen.
Security Solutions, built on a heritage of providing evidential quality CCTV footage. Delivering the highest image quality in all environmental conditions using our highly reliable, advanced technology cameras and image recording systems, giving you the freedom to feel secure.
Visual System Solutions offers the widest range of professional displays and projectors and allows Audio Visual professionals the freedom to create. It leads the European high brightness projector market with a 39% market revenue share (Futuresource >5klm FY17 Q3, excl. 4K & digital cinema).
About Panasonic
Panasonic Corporation is a worldwide leader in the development of diverse electronics technologies and solutions for customers in the consumer electronics, housing, automotive, and B2B businesses. The company, which celebrated its 100th anniversary in 2018, has expanded globally and now operates 591 subsidiaries and 88 associated companies worldwide, recording consolidated net sales of Euro 61.4 billion for the year ended March 31, 2018. Committed to pursuing new value through innovation across divisional lines, the company uses its technologies to create a better life and a better world for its customers. To learn more about Panasonic: http://www.panasonic.com/global.