By going against the grain and cutting out the middleman
London, September 1st, 2016. Canvas, a young London based start-up, has re-launched their website after a complete overhaul of the design and user interface. The new format, which has been developed in the last 12 months, allows users to navigate faster and more easily on desktop and mobile devices, while giving venues new tools to showcase their spaces in full.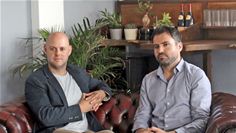 Founders Sascha Michel and Antony Iredale
With over 20,000 monthly active users, and a mission to provide digital innovations without compromising on simplicity and usability, Canvas enables direct contact between its users and venue owners without going through a middleman. This guarantees a much simpler way of doing business, and generates a higher calibre of client for its venues.
This concept has allowed Canvas to build an exclusive portfolio of more than 350 unique locations in London over the last 3 years, helping to generate around £900k of event enquiries per month. Having primarily connected big brands such as Chanel, GQ, HBO, Jeep, EA Games, and London Fashion Week with their venues of choice; Canvas has seen growth for private hires and weddings over the last 18 months by diversifying its portfolio.
The new mobile friendly website has furthered the company's philosophy of helping users to find the right venue quickly. Important improvements include changes to the search function, adding new filters, and an optional map search. In addition to this, venues can now personalise their profiles and upload higher definition photos to larger image galleries, allowing Canvas' visitors to engage more with the spaces.
About Canvas
Canvas was created in 2013 by Co-founders Sascha Michel and Antony Iredale, both of whom are passionate about unlocking London's most exclusive venues. Incubated by London's Leading Film Location Agency, Location Collective, the pair began to develop a solution to the growing demand for locations that could also double up as venues for events. Canvas is dedicated to providing their users and venues with the digital tools they need in order to connect with each other quickly and directly.
Press Contact: Sascha Michel, Co-Founder
Sascha@canvas-events.co.uk
0203 773 3714
Website link: http://www.canvas-events.co.uk