London, UK – Sept 12th 2019 - Career Star Group and CareerArc announced today a global strategic partnership combining CareerArc's revolutionary virtual outplacement technology platform with Career Star Group's world leading alliance of outplacement and career transition providers.
The rise of technology has affected every aspect of our lives. It has been recognised that digital solutions can effectively be integrated into global career transition solutions providing employees with more choice and access to expertise to reflect diversification and different situations, whilst providing employers with on-demand support for their workforce resulting in faster transitions and tailored solutions.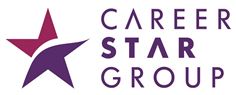 Career Star Group logo
The Career Star Group / CareerArc partnership combines extensive skills in global outplacement and career transition delivery with an innovative, revolutionary technological platform to help support clients and customers through successful periods of change and transitions.
''This partnership brings a powerful combination to the market. CareerArc's understanding of digital platforms to maximise positive employer and employee results complements Career Star Group's market leading services exceptionally well,'' said Cetti Galante, chair of the board at Career Star Group. ''With nearly 80 countries globally from America to China, Australia to Germany, already delivering exceptional outplacement services for multinational companies, this partnership will allow us to deliver even more business impact for our clients and a more diverse range of solutions for customers, as well as accessing employees in any location.''
''Being part of Career Star Group's world-leading network will add another dimension of career transition services delivery for employers and departing employees that hasn't been realised on a global scale before,'' said Robin Richards, chief executive officer and chairman of CareerArc. ''Partnering with Career Star Group to deliver our virtual outplacement platform globally will provide more opportunities to help employees worldwide, at every level of their careers, find new employment as quickly as possible while protecting employer brand.''
CareerArc is now part of Career Star Group's alliance servicing 5000 employees in over 1000 locations across the globe annually. This partnership represents a major breakthrough in the way both parties address the needs of an ever-important market.
Career Star Group is a global alliance of the world's leading career transition and outplacement providers. Career Star Group provides multinational companies with access to the best career transition service providers regardless of where workforce changes occur. www.careerstargroup.com.
CareerArc is a leading HR technology company helping business leaders recruit and transition the modern workforce. CareerArc social recruiting and virtual outplacement solutions help thousands of organizations, including many of the Fortune 500, maximize their return on employer branding. By leveraging the cloud, running on modern infrastructure, and combining web, mobile and social media applications, CareerArc helps companies gain a competitive edge in recruitment, employment branding, and outplacement. CareerArc was founded in 2009 and has offices in Burbank, Calif. and Boston, Mass. https://www.careerarc.com
For Career Star Group media enquiries please contact Katie Goring katie.goring@careerstargroup.co.uk
For CareerArc media enquiries please contact BAM Communications careerarc@bamcommunications.biz