As the last summer bank holiday approaches, millions of Brits will be bracing themselves for traffic jams as they make their way to the beach.
But, should they be prepared for a cash jam too? As seaside hotspots swell with holidaymakers the danger is that, as demand for cash soars, local ATMs will dry up.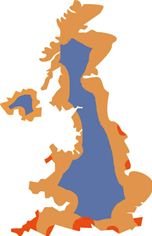 UK cash jam hotspots
Cash jam hotspots include Brighton, Bournemouth, Weymouth, Scarborough, Skegness, the Lleyn Peninsula, Torquay, Margate, Whitstable, Ramsgate and the whole of Cornwall.
Lots of Britons will be flocking to the coast and will inevitably end up buying ice cream and sticks of rock to keep the kids quiet. But since lots of small businesses that cater to tourists rely on cash payments, it's no good just taking our cards.
Last year, LINK revealed that 29 August broke records for ATM withdrawals, as the busiest ever August bank holiday Monday in the UK. Over £280 million was withdrawn, 4% more than the previous year. There was a similar increase in the number of withdrawals, up 9% from 4.5 million to 4.9 million.
Banking specialist Mark Aldred explains, "Despite speculation to the contrary, cash is here to stay – and this is especially true in seaside towns with lots of small businesses catering to tourists. This time of year can be a bit of a struggle for banks, as they need to predict where the highest demand for cash will be, and make sure that their ATMs are topped up."
Mark adds, "My advice would be – don't leave it until the last minute to get your cash out! Make withdrawals at home before you leave, or at service stations before you reach your final destination".
Banks could do more to predict coastal cash jams. New software can predict when and where cash will run out in which ATMs. Greater use of this software could mean cash-jams on Bank Holidays become a dim memory in the future.
About Auriga
Auriga is a leading supplier of software and technological solutions for the banking and payments industries, and a specialist provider of innovative omnichannel solutions to banks and other financial institutions. Its solutions, deployed on over 67% of Italian ATMS and 12% in Western Europe are founded on modern architecture and improve time to market for new services while lowering costs and building long-term competitive advantage. Auriga is a global company, with a dedicated presence in Eastern and Western Europe and expanding operations in the UK.
More information is available on Auriga's website: www.aurigaspa.com
Press Contacts
Sophie Marston, OneChocolate
Tel. +44 (0)20 7437 0227, e-mail: sophiem@onechocolatecomms.co.uk