New, bigger booth demonstrates expansion course
London, UK, Monday 17th January, 2011 - Nearly a dozen new products and the biggest exhibition booth in the company's history: Networking specialists LANCOM come to this year's CeBIT bigger and more innovative than ever. Awaiting visitors in Hall 13 (Booth C28) are numerous innovations in the areas of professional cellular routers (HSPA+, LTE), 802.11n wireless LAN, VPN site connectivity, and also new functions for the LANCOM operating system LCOS. Also on the booth: A first insight into the world of future networking with IPv6 and detailed solution scenarios for applications in a variety of industries.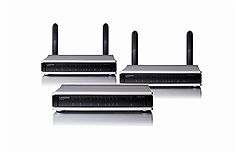 LANCOM - CeBIT 2011
On a display area covering 140 square meters, the manufacturer based in Aachen, Germany presents the LANCOM 1781, the first of its new range of routers. These products are based on an entirely new high-performance hardware platform designed to meet the most rigorous demands on bandwidth and availability: Indoor and outdoor models with LTE/HSPA+, fiber-optics, 802.11n wireless LAN, and Gigabit Ethernet.
LANCOM goes to the limits of feasibility in wireless LAN: From indoor devices to a new generation of 802.11n outdoor equipment with fiber-optic interfaces and Gigabit Ethernet, industrial-grade access points in dust-resistant metal housings, and also outdoor devices that combine wireless LAN and cellular telephony.
Expert LANCOM users will appreciate the innovations in the LANCOM operating system LCOS: Layer-3 tunneling for WLAN controllers enables virtual networking without the complexity of VLANs; applications include guest Internet access and voice services (Voice over LAN). Or the update to the Content Filter for better performance, HTTPS request checks, and simplified overrides.
Also on the booth: A first demonstration of LCOS with IPv6 support.
LANCOM is expecting numerous system vendors and resellers, who will be able to meet with their contact persons for the LANCOM Partner Program and LANCOM Training Center, also on location. Large numbers of end customers interested in industry-specific solutions are also expected. These visitors will find detailed information on LANCOM's solution scenarios for industries such as the hotel and catering industry, retail, education and health, the public sector, and also for wireless Internet service providers.
"In 2011, CeBIT is once again LANCOM's single most important event. We expect to see a very high number of professionals not only from the channel but end customers as well," says Ralf Koenzen, Managing Director of LANCOM Systems. "The biggest ever LANCOM booth underscores our optimism. We are very much looking forward to Hanover."
******************************
Note to editors: LANCOM management and spokespersons will be happy to receive you for individual press interviews on the LANCOM booth (Hall 13, C28). Appointments can be scheduled with the press contacts listed below. We kindly request that you arrange an appointment in advance.
******************************
LANCOM Systems background:
LANCOM Systems GmbH is the leading German manufacturer of reliable, innovative network solutions for large enterprises and SMEs, public authorities and institutions. The focus is on remote access and site connectivity based on virtual private networks (VPN) and on wireless networking (WLAN). LANCOM Systems GmbH is headquartered in Würselen near Aachen and has sales offices in Munich, Barcelona and Amsterdam. The company's founder and Managing Director is Ralf Koenzen.
LANCOM Systems at CeBIT (01 - 05.03.2011):
Hall 13, Booth C28
Information and contact during the exhibition at:
+49 (0)172 / 936 01 27 (Eckhart Traber)
+49 (0)175 / 228 67 37 (Sascha Smid)
Your editorial staff contact:
Eckhart Traber
LANCOM Systems GmbH
Tel: +49 (0)89 665 61 78 - 67
Fax: +49 (0)89 665 61 78 - 97
presse@lancom.de
www.lancom.eu
Asim Qureshi
AxiCom UK
Tel: +44 208 392 4084
Fax: +44 208 392 4050
asim.qureshi@axicom.com
www.axicom.com
Our comprehensive Internet press service:
LANCOM PressLounge: http://www.press.lancom.eu