With the wedding season drawing near, M&S is proud to announce its exclusive Men's Suits offer this April. For two weeks only (Tuesday 19th April - Tuesday 3rd May), you can save up to 25% when you spend over £160 on Men's Suits.
The main wedding party can be extensive with the bride, groom and bridesmaids, best man, groomsmen, ushers and immediate family of the special couple. This can obviously get expensive so saving money wherever possible is key. With this M&S suits offer, you can save when you buy suits together: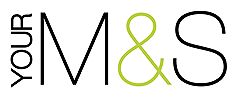 M&S Logo
2 Merino suits at £129 each (includes jacket and trousers) was £258 now £193.50
3 morning suits at £149 each (includes jacket and trousers) was £447 now £335.25
4 Collezione tuxedo suits at £199 each (includes jacket and trousers) was £796 now £597
What's more, Marks & Spencer caters for all different shapes, sizes and frames including 'slim fit, 'Regular fit' and Big and Tall. This means everyone from little brother to granddad can look their best and be comfortable.
For more information on the full M&S men's suits range and the offer visit: http://www.marksandspencer.com/Suits-Mens/b/43483030
-Ends-
Notes to editors
Offer details:
Spend over £160 and save 25% on all men's suits applies online and in store from 19 April 2011 – 3 May 2011. Subject to availability. Discount applies at checkout. Qualifying spend must include at least 1 jacket and 1 trouser. Applies to T15 products only. A suit comprises a matching jacket and trouser. For an exchange or refund to be processed, all items must be returned together. Higher prices applied online for 28 days except where there was: a 25% discount on £159 Autograph suits on 23 March 2011; a 25% discount on £199 Autograph suits on 30 March 2011; a 25% discount on £199 Collezione suits on 4 April 2011.
Contact: For further information please contact Isa Lavahun:
01273 760 956 or isa@propellernet.co.uk
Marks & Spencer PR Team
charlotte.norton@marks-and-spencer.com / 020 8718 8996
You can download images from www.prshots.com or www.mandslibrary.co.uk