NORWICH, UK, December 15th, 2016 - To celebrate the release of Rogue One: A Star Wars Story and the power of their free video editing & VFX software HitFilm 4 Express, FXHOME (hitfilm.com) have today launched their Star Wars-style fan film, Rebellion, complete with free video tutorials and project files to enable filmmakers to make their own Star Wars inspired content at home. From learning how to clone Stormtroopers to designing blaster effects - HitFilm's latest project gives filmmakers worldwide the ability to create Hollywood-level visual effects using powerful software, completely free.
"Our company was built on lightsaber-style effects and our love of the Star Wars universe," says Josh Davies, Founder and CEO of FXHOME. "We don't want emerging filmmakers and creators to be prevented from making awesome content because they can't afford expensive 'professional' software. So we've made our powerful editing & VFX software completely free and we're giving everyone free tutorials and project files so that they can create their own Star Wars fan film, at home."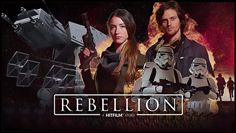 Rebellion poster
HitFilm 4 Express (hitfilm.com/express) launched in April 2016 and is the only all-in-one editing and professional visual effects software to be backed up with a vast range of tutorials and unparalleled support. Available for free, HitFilm 4 Express has been designed from the ground up to run on almost any computer; from consumer laptops to hardcore gaming rigs. Its powerful technology gives the next generation of filmmakers the ability to make bigger and better content than ever before.
HitFilm 4 Express is the most flexible tool available for free in the video software market; as well as a powerful editor, it also includes professional animation tools, speed controls and over 150 effects such as lightning, smoke and explosions. Now with almost 900,000 users, HitFilm 4 Express has everything a creator needs to get started and also offers flexibility through a useful set of optional expansion packs with additional powerful features and effects.
HitFilm 4 Express is available to download immediately from hitfilm.com/express.
Created in partnership with Emmy Award winning production company Ember Films (emberfilms.co.uk), Rebellion is available to watch for free at hitfilm.com/express/rebellion.
*ENDS*
NOTES TO EDITORS
Minimum requirements are:
Apple Mac - OS X 10.10 Yosemite, 10.11 El Capitan or macOS 10.12 Sierra
Windows PC - 64 bit version of Windows 7, Windows 8 or Windows 10
ABOUT FXHOME, Makers of HitFilm
In 2011, Josh Davies set out on a mission to prove that professional grade post-production tools can be made available to everyone. The result was HitFilm, an all-in-one video editing and visual effects software – at a fraction of the cost of other industry standard tools.
Six years and almost 900,000 users later, HitFilm is one of the leading post-production software tools in the industry, offering software options for emerging and pro users alike.
What started as a big idea on a little budget, has grown to a global movement of filmmakers who share HitFilm's vision for the future of video software. Together, we have not only built one of the best VFX and editing tools in the industry – but a community of artists who inspire and learn from each other.
For more information see hitfilm.com
Contact:
Kirstie Tostevin, Assistant Marketing Manager for FXHOME
E: kirstie.tostevin@fxhome.com T: +44 (0)1603 518409