Latest update consolidates Celebrus as enterprise CDP of choice for banking and insurance sectors
Integration with Adobe Experience Cloud augments leading digital marketing platform with streaming customer data
New Audience Segmentation feature enables advanced targeting of individuals even when they have left a site or app
Latest connector supports creation of Custom Audiences in Google and Facebook
Hadoop capabilities extended with enhanced support for Hive open-source data warehouse
Sunbury-on-Thames, 19th April 2018: D4t4 Solutions Plc has announced general availability for the latest release of its leading Celebrus Customer Data Platform (CDP). Continuing its commitment to creating the industry's most advanced unified system for customer data, Version 8 Update 19 delivers a host of new features that broaden the appeal of Celebrus to enterprises focused on deepening customer engagement.
Adobe Experience Cloud integration for optimising digital marketing
Celebrus has for many years enabled a unified stream of customer data for use in marketing applications. Now though, this capability is being offered to businesses that have invested in the leading marketing cloud applications from Adobe. Building on the capabilities already available in Adobe Experience Cloud, the Celebrus Adobe Connector streams data to allow Adobe clients to create genuine 1-to-1 personalisation and real-time customer experiences.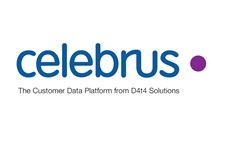 Celebrus logo
Using Celebrus accelerates the availability of customer behaviour data to Adobe Experience Cloud applications and adds customer experience data for complete coverage of customer interactions across channels.
Audience Segmentation for advanced targeting of individuals
Website or mobile app visitors can now be engaged with at any time, whether they are online or not. Celebrus enables rules to be run that can regularly sweep offline users like those who have abandoned applications, purchasers who have lapsed for a defined period of time or customers who need to complete a transaction by a particular date. This creates opportunities to segment and target offline users for re-engagement or remarketing initiatives.
Complete control over when and to whom these rules are run allows optimisation of these segmentation activities and identifies actions for each user like sending them a marketing e-mail, creating a lead for outbound contact or adding them to an audience for advert targeting.
Custom Audience Connector for compliant profiling of Google and Facebook users
The advanced profiling features of Celebrus are now being used to enhance the capabilities of leading ad networks, Google and Facebook. The new Custom Audience Connector for Google or Facebook supports these networks' audience-building features by enhancing their ability to profile users based on common attributes or similar interests. This profiling capability enables accurate and compliant retargeting and engagement of customers or can be used to build lookalike audiences for customer acquisition and brand awareness campaigns.
Celebrus not only provides first-party compliant data to enable this feature, overcoming any privacy or permissions concerns that may exist, but it also enables this capability in real-time as well as orchestrating adverts with existing DMPs for the most immediate, accurate and effective campaigns.
Backing for open-source analytics extended with support for Apache Hive
The Celebrus Hadoop Data Loader has been hugely beneficial to clients needing to consume data at scale for advanced customer analytics. Now this capability has been extended by enabling the creation of tables for Apache Hive data warehouse users, accelerating and simplifying the landing of data into that environment.
This feature speeds up the availability of Celebrus data for data science and analytics initiatives, enabling quicker customer insight and availability of data for marketing applications.
Peter Kear, CEO of D4t4 Solutions Plc, said: "The Customer Data Platform is becoming a mainstream requirement for customer-centric businesses. Sophisticated enterprises are recognising that the success of their customer relationships depends on their ability to unify data from across channels and activate it for use in multiple business applications. Celebrus captures the very best GDPR-compliant customer data, making it available for marketers, analysts, data scientists and insight experts to drive value throughout their organisations. I am proud that the latest developments to Celebrus enhance our leadership in this fast-growing space and extend our clients' capacity to operationalise their data for mutually-profitable customer relationships."
The latest version of the Celebrus Customer Data Platform, Version 8 Update 19, is available immediately for new and existing Celebrus clients.
Ends 
About Celebrus
Celebrus (celebrus.d4t4solutions.com) is the Customer Data Platform from D4t4 Solutions Plc. Celebrus captures the market's most complete picture of customer behaviour and experience, creating events and profiles in real-time for 1-to-1 personalisation and streaming analytics. Celebrus is quick and easy to deploy and connects to industry-standard data applications for customer insight and engagement. Celebrus also gives clients complete control by enabling best-in-class privacy compliance and flexible options for hosting data on-premise or securely in the cloud.
Celebrus is used by global businesses in banking, insurance, retail, travel, automotive and telco industries, collaborating with leading industry partners to drive rapid transformation in customer engagement programmes.
D4t4 Solutions (www.d4t4solutions.com) is ALL ABOUT THE DATA, providing comprehensive products and services that drive value from clients' data assets. D4t4 Solutions was established in 1985 and is listed on the AIM market of the London Stock Exchange (stock code: D4T4).
Media Contacts
Matthew Tod
D4t4 Solutions Plc
Tel: +44 (0)1932 893333
E-mail: matthew.tod@d4t4solutions.com
David Hetling
D4t4 Solutions Plc
Tel: +44 (0)1932 893386
E-mail: david.hetling@d4t4solutions.com