Latest Celebrus update augments leading digital marketing platform with streaming customer data:

Enables flow of highest quality customer data for true 1-to-1 marketing.
Connections to industry-leading decisioning engines facilitate optimised next-best-actions via Adobe applications.
Integration reduces data collection costs with patented tagging-free approach.
Sunbury-on-Thames, 8th May 2018: D4t4 Solutions Plc recently announced general availability for the latest release of its leading Celebrus Customer Data Platform (CDP). This release includes specific features for Adobe Experience Cloud users that enable enterprises to drive more value from their marketing cloud investment.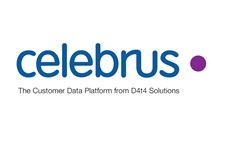 Celebrus logo
Streaming of experience data to augment behaviour data
The new Celebrus Adobe Connector streams customer behaviour and experience data in real-time, allowing Adobe Experience Cloud clients to create genuine 1-to-1 personalisation and more immediate customer experiences. It does this by augmenting the data collected by Adobe Analytics, specifically through customisation of the events gathered by Adobe to enable more granular Celebrus customer data to be provided alongside. This means that in addition to the behaviour data already collected by Adobe, Celebrus provides detailed experience data on top that delivers unrivalled insight into the context of customer interactions on digital channels.
Real-time data delivery for rapid next-best-actions
The Celebrus Adobe Connector also accelerates the availability of this data to other Adobe Experience Cloud applications. In doing so, Celebrus enables millisecond-speed data that can be used to power more rapid next-best-actions from Adobe applications or from other leading decisioning platforms with which those applications might be integrated.
Configuration assistance for simplified implementation
Finally, Celebrus streamlines the process of implementation by providing assistance to Adobe users in correctly configuring their applications to receive data from Celebrus. This not only helps to reduce the overall cost of capturing customer interaction data but also simplifies this crucial stage in making that data available to the multiple lines of business that can best drive value from it.
D4t4 Solutions' Chief Data Officer, Matthew Tod, commented: "Our focus is on helping Celebrus clients to deepen engagement with their customers by creating opportunities for true personalisation and better 1-to-1 marketing. Celebrus accelerates – to genuine real-time – the availability of customer behaviour data to Adobe Experience Cloud applications and adds richer experience data without the need for time-wasting tagging. This enables the enterprises that we work with to capitalise on their Adobe investment and drive more value through their businesses by using the very best customer data available."
The Celebrus Adobe Connector is part of the latest release of the Celebrus Customer Data Platform, Version 8 Update 19. This release is available immediately for new and existing Celebrus clients.
Ends 
About Celebrus
Celebrus (celebrus.d4t4solutions.com) is the Customer Data Platform from D4t4 Solutions Plc. Celebrus captures the market's most complete picture of customer behaviour and experience, creating events and profiles in real-time for 1-to-1 personalisation and streaming analytics. Celebrus is quick and easy to deploy and connects to industry-standard data applications for customer insight and engagement. Celebrus also gives clients complete control by enabling best-in-class privacy compliance and flexible options for hosting data on-premise or securely in the cloud.
Celebrus is used by global businesses in banking, insurance, retail, travel, automotive and telco industries, collaborating with leading industry partners to drive rapid transformation in customer engagement programmes.
D4t4 Solutions (www.d4t4solutions.com) is ALL ABOUT THE DATA, providing comprehensive products and services that drive value from clients' data assets. D4t4 Solutions has been an Adobe partner since 2005, working with a wide range of Adobe enterprise applications during that period, and also partners with other industry leaders including Dell EMC, Microsoft, Pegasystems, SAS and Teradata.
D4t4 Solutions was established in 1985 and is listed on the AIM market of the London Stock Exchange (stock code: D4T4).
Media Contacts
Matthew Tod
D4t4 Solutions Plc
Tel: +44 (0)1932 893333
E-mail: matthew.tod@d4t4solutions.com
David Hetling
D4t4 Solutions Plc
Tel: +44 (0)1932 893386
E-mail: david.hetling@d4t4solutions.com