Oracle has recognised Certus Solutions, implementer of Oracle Cloud Services for Finance, Procurement, HR and Payroll with its 2017 UK & Ireland Partner of the Year Award in HCM Cloud. Certus Solutions is a Platinum level member of Oracle PartnerNetwork (OPN). Certus Solutions was presented the 2017 UK & Ireland Partner of the Year Award in HCM Cloud for demonstrating excellence not only in implementation successes but their dedicated commitment to the Oracle Cloud Applications Strategy. UK & Ireland Partner of the Year Awards encourage innovation by OPN members, who use Oracle's products and technology to create value for customers
Notably Certus created "engage®.gov" an implementation accelerator, methodology and support service specifically designed for Oracle Cloud within Central Government and have delivered the first UK Government Department contract with the Office for National Statistics in October 2016. No one underestimates how important this was both within Government and Oracle more than Certus.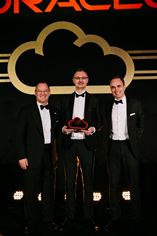 Certus Solutions Team
The award also reflects Certus Solutions' success in adopting OPN's specialised approach, which is aimed at enabling partners to establish industry recognition by following a formal process to become specialized in key Oracle solution areas.
Tim Warner, Chairman Certus Solutions said, "Certus Solutions was formed with the intent of being the best Cloud Implementer, and HCM is where we started. After 5 years of exceptional growth, working closely with Oracle Development, we are widely recognised as thought leaders in this area with many successful implementations. We are honoured Oracle has recognised us with this prestigious award".

"Certus Solutions has demonstrated an outstanding level of innovation in delivering proven, Oracle-based solutions that solve our joint customers' most critical business challenges," said Simon Hill, Head of UKI Alliances & Channels. "We congratulate Certus Solutions in achieving the 2017 UK & Ireland Partner of the Year Award in HCM Cloud. This achievement is a testament to its dedication to excellence and to providing customers solutions and services that drive real business value and results."
About Certus Solutions
Certus Solutions is a Platinum level member of Oracle PartnerNetwork and Oracle Education Partner. A leading provider of implementation and business support services for Oracle Cloud based software for ERP, HCM and Payroll. For more information regarding this press release and Certus Central Government activities please contact Mark Sweeny, Chief Executive Officer at Certus Solutions at mark.sweeny@certus-solutions.com +44 (0) 1483 610 220 / +44(0) 7775 675 704.
About Oracle PartnerNetwork
Oracle PartnerNetwork (OPN) Specialized is the latest version of Oracle's partner program that provides partners with tools to better develop, sell and implement Oracle solutions. OPN Specialized offers resources to train and support specialized knowledge of Oracle products and solutions and has evolved to recognize Oracle's growing product portfolio, partner base and business opportunity. Key to the latest enhancements to OPN is the ability for partners to differentiate through Specializations. Specializations are achieved through competency development, business results, expertise and proven success. To find out more visit: http://www.oracle.com/partners.
Trademarks
Oracle and Java are registered trademarks of Oracle and/or its affiliates.
"engage®.gov" and engage® business support are offerings that deliver the best value to customers moving to Cloud Applications.