App's new business model puts its money where its mouth is, delighting people all over the country
Sheffield, April 15th, 2016: This Friday as Tengi gives away another £10,000 top prize to one lucky winner, it will have given away over £200,000 in total to users of its chat app.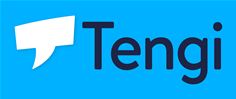 Tengi logo
Tengi's unique business model recognises users' value by rewarding them with weekly cash prizes. The app has already given away over 21,000 prizes to chatterboxes up and down the country and every week it gives away over £14,000 to users simply for using the app to chat to friends and family.
"£200,000 is a huge sum of money to have given away," said Neil Laycock, CEO of Tengi. "But we plan to give away much, much more."
"The chat app marketplace is a crowded one, we recognise that. But it's the users who bring the real value to every app out there," continued Laycock. "As a British challenger to the big boys in social media and messaging, our successful growth is down to the fact that we recognise and reward that value.
Tengi has already given away 21,560 prizes to delighted winners:
Anwar from Bradford won £10,000: "Tengi is brilliant – I mean, I would have been sending messages through another app anyway but with Tengi you can do the same but you get the added a chance to win every week… and I did!"
Charlotte, 29, a student midwife from Oldbury, won £1,000: "Being a student, the family and I have not been able to afford to go abroad for a while. Thanks to Tengi, now we can!"
Praveen, a physio from London couldn't believe his luck when he won the £1,000 first prize. "When I heard about Tengi from a friend at first I ignored it. I thought it was too good to be true. But I'm proof people do win and I've recommended it to my family and friends. Tengi is brilliant." He and his wife Uma are planning a family break and spending some of it on their little boy, Arjun, three.
Tengi is the only messaging app to reward users because it shares 50% of its advertising revenue. As more users have signed up to Tengi the weekly prize draw's top prize has grown from £1,000 to £10,000. On top of that there are over 850 additional prizes of £25 or £5 every week.
British users can now use Tengi to chat to friends and family around the globe – increasing their chance of winning. Users in the US and India take part in the global prize draw, while other international users can download Tengi Lite, which provides the same full messaging features as Tengi. More countries will be added to the prize draw in due course.
Tengi can be downloaded for iOS and Android via the app stores:
More winners can be seen at http://tengi.com/winners/
ENDS
About Tengi
Tengi is the chat app that gives back. Every week Tengi gives away hundreds of cash prizes to its community of users. All they have to do is use the app to be entered into the prize draw. There are no hidden costs, catches or strings attached. Tengi is committed to sharing 50% of its advertising revenues with users.
The app is completely free and Tengi will never charge people for it. Tengi's approach is consumer-focused and free, fair and fun. It's not just about the cash, either: the app is packed with great features and new ones are being added all the time.
See more at www.tengi.com.
Press contacts
Kate Gordon
Joshua PR for Tengi
T: 07980 921961
E: kate.gordon@joshuapr.com
Nathan Taylor
Joshua PR for Tengi
T: 07889 872700
E: nathan.taylor@joshuapr.com