What does Christmas mean to you?
The UK Gift Card and Voucher Association (UK GCVA), the trade body representing the UK's £4.7 billion voucher, gift card and stored value solutions industry, has announced the launch of its Christmas gift card and voucher design competition for young people up to the age of 18 years old.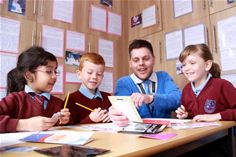 Christmas design competition
The competition, sponsored by Ceridian Stored Value Solutions (SVS), will get students from ages five to 18 to design a gift card or voucher for their own parents or carers looking at 'what Christmas means to me' – with the chance to win prizes worth up to £150.
Split into age categories, the under-18s will be asked to design a Christmas themed gift card or voucher, which will then be judged by a panel of experts within the prepaid industry. Entrants in each category will have the chance to win one of three gift card or voucher prizes up to the value of £150, as well as the possibility of their own gift card or voucher being sold in-store with a retail sponsor.
UK GCVA and SVS have advised that the children will be split into the following age categories:
5 to 9 years (Sponsored by Book Tokens)

10 to 13 years (Sponsored by Halfords)

14 to 18 years (Sponsored by B&Q)
The prizes have been categorised as follows:
1st Prize – £150 (and the chance of being sold in store)

2nd Prize – £100

3rd Prize - £50
There will also be a group/school prize for the winning student's organisation. This prize will be £400 and can be split as the group sees fit.
Andrew Johnson, director general of the UKGCVA, states:
"We are delighted to announce the launch of this year's Christmas gift card and voucher design competition, and we are very excited to see all the entries come in. Gift cards and vouchers are a great choice of present for both young and old, and the competition will be a fun thing for young people to do – with the potential to win some great prizes!"
Steve Bradbery, international product solutions, at SVS, comments:
"SVS is really excited to sponsor this competition and partner with The UKGCVA. We look forward to spotlighting some excellent designs by the entrants and are very excited at the prospects of those designs actually getting sold in-store. The competition will be open to children ages five to 18, schools, afterschool clubs, brownies, cubs and all other youth organisations. So get drawing!"
Entry for the competition will open Monday 17th June, and will run until Friday 26th July. Winners will be announced Saturday 7th September.
To enter, please go to: www.ukgcva.co.uk/competition to download your gift card or voucher template and check out the terms and conditions. You'll then be ready to begin designing your winning entry!
…ends…
About the UK GCVA
The UK Gift Card & Voucher Association was established as a trade body in 1991 to represent the key players in the £4.7 billion gift vouchers, cards and stored value solutions market. It provides an information and reference point for both voucher & gift card suppliers and customers, and is at the forefront of the issues affecting the industry.
Its main objective is to raise the profile and use of vouchers and gift cards within the UK, promoting the industry to consumers, businesses, government and other interested parties.
About Ceridian Stored Value Solutions (SVS)
With two decades of experience, SVS is a pioneer and leading global prepaid provider creating billions of dollars in increased revenue each year for clients around the world. The SVS product suite includes retail gift cards, branded prepaid and promotional cards, plus a robust loyalty platform. As a dedicated prepaid innovator, SVS manages over six hundred million card products and processes over one billion transactions in 45+ countries and 26 currencies worldwide. To learn more about increasing your sales with the most effective prepaid solutions, visit us at: www.storedvalue.com
About the UKGCVA Christmas design competition sponsored by Ceridian Stored Value Solutions
The UKGCVA Christmas gift card and voucher design competition sponsored by Stored Value Solutions has been designed to increase awareness of the use of gift cards and vouchers as a gift for parents or carers at Christmas, by asking students up to the age of 18 to design a gift card or voucher for their own parents or carers.
The competition will be supported by Book Tokens, Halfords and B&Q.
Media contacts:
PR Consultant to the UKGCVA Christmas design competition sponsored by Ceridian Stored Value Solutions
Holly Tyzack
Rostrum Communications
Holly@rostrumpr.com
+44 (0)7827 995 180