December 15th 2015: Christmas is coming early to children at Royal Stoke University Hospital as Santa embraces the power of digital technology through the WiFi SPARK Platform.
Christmas, children and hospital are three words that are hard to hear in the same sentence.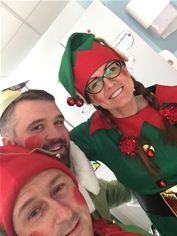 WiFi SPARK Staff
At this time of the year it is so important to put smiles on children's faces and what better way to do that than to bring Santa Clause and his warming Christmas spirit right into their hands?
WiFi SPARK has made this possible two years running, providing the internet connectivity as part of the Cisco Connected Santa programme. On the 8th December 2015 Santa made virtual visits live from the North Pole to the hospital to hear the children's Christmas wishes. Santa appeared on a TV screen and right in front of the kids on iPads.
The Connected Santa programme gives young patients and their families the opportunity to speak directly to Santa back in Lapland, with Santa's elf helpers on hand at Royal Stoke to share gifts with the children in person. This year WiFi SPARK's Tracy Scriven and Paul Hinchy were right there in the moment, holding children's hands as they gleefully chatted to Santa with bright eyes and wide smiles.
Tracy Scriven, Sales Manager at WiFi SPARK said: "We are so pleased to give children this opportunity to speak with Santa. After all, it is the most wonderful time of the year and to so many children in hospital it is also the hardest.
"Offering the connectivity to allow Cisco to use their video teleconferencing solution has meant that between us, we are making children happy this Christmas."
Mark Bostock, ICT Director UHNM commented: "This is one of a number of really good examples of how the latest technology can be used as an enabler to support a whole hosts of diverse patient experience enhancements - over and above 'internet access'. This typifies why we have called the work that we have done with WiFi SPARK "The patient experience". It's WiFi SPARK supporting the UHNM ICT team to make a difference to the patients, and support them during the time they spend with us."
Janet Hagan, Matron for Child Health at University Hospitals of North Midlands, said: "Spreading Christmas cheer to patients and their families at a time when they may not otherwise be able to enjoy the season is really important.
"Being part of Cisco's Connected Santa programme means that children who might not be able to go home over Christmas can still enjoy the magic it brings, by getting to speak with Santa at his busiest time of year."
Press Contacts
Rebecca O'Donovan | 0344 848 9555 | marketing@wifispark.com