Real-Time Delivery Systems Teams overcome scale challenge through software innovation:
Hundreds of thousands of concurrent users supported on the bet365 system

Millions of concurrent users supported on the banner system

Data latency reduced to less than 2 seconds

System capable of thousands of live changes per second
17th March, 2011, Stoke based eGaming operator bet365 has today announced the launch of its latest In-Play betting system. The industry leading system employs a distributed computing model to deliver the scale necessary to meet the demand for bet365's products.
In-Play betting enables users to bet on the outcome of specific events that take place while a sport is in progress, e.g. the next point in a tennis match or the next goal in a football game. As such it requires the delivery of a continuous stream of real-time information, whilst simultaneously receiving and processing a huge amount of incoming customer data. bet365's software development teams have played a major role in overcoming the significant challenges that delivering the system presents.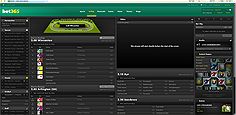 Screenshot
In-house innovations in push technology enable bet365 to inject data into any area of the user's dashboard in close to real-time, whilst sophisticated software offers greater speed and scalability by storing the information in the cloud. The result is a system that automatically refreshes the chosen elements of the dashboard without interfering with the user's experience, is capable of handling thousands of changes per second and delivering them out to interested users in near real time.
"We could not achieve the scale we have without our Systems teams," said Martin Davies, Chief Technology Officer, bet365. They have enabled us to take the pressure off of our databases and storage systems and increase the scale and flexibility of our systems through the creation of our own personal cloud."
Built with multiple Flash parts, this, version 4 is the most customisable and feature rich to date. It gives users the freedom to view information on multiple sports or in-depth information on the sport of their choice. It also provides fully integrated audio and visual coverage of live sporting events.
"I'm very proud of our systems teams. They continue to push through barriers to deliver a rich multi-media experience that is controlled by the user and can support millions of people across the world simultaneously," concluded Davies.
bet365 is considered by many to be the world's leading online gaming company. The company, which undertakes all of its technical development in-house, is currently number one in the eGR Power 50, which ranks the world's most influential eGaming operators.
About bet365
bet365 is a world leading eGaming company and a driving force in the development of Enterprise and Internet technology. Established in 2001 from a portakabin in Stoke-on-Trent, bet365 has grown into a global operation that employs over 1,400 people and is live in 17 languages. Giving its development teams the freedom to innovate is key to bet365's success. The company has worked hard to cultivate a culture of innovation where good ideas and a techno-entrepreneurial attitude are encouraged and rewarded. Today bet365 continues to push technological boundaries and break new ground in software innovation.
For more information or to organise an interview please contact:
Alex Moscow
alex@9mmpr.com
07967 604 652