Tesco Compare's limited promotion allows customers to take advantage of the opportunity to earn 250 points for Clubcard holders who quote and buy motorbike insurance through www.tescocompare.com before 30th April 2012. It has been launched as a way of giving a little extra back.
The price comparison website allows customers to search a wide range of insurance policies covering up to 35 motorbike insurance providers. The results page has been designed to provide customers with all the relevant information they need, to choose the policy which is right for them.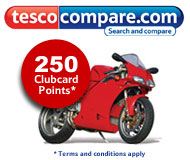 Tesco Compare Motorbike Insurance
The Tesco Compare Motorbike Insurance Comparison Service is provided by The Bike Insurer, a trading style of Vast Visibility Ltd.
Product Development Manager of Tesco Compare, Craig Monahan, said: "Our aim is to basically make our customers' lives easier; our site is quick, easy to use and provides very competitive prices if you then add this deal on top it is a strong incentive for customers to shop with us."
How does it work?
Opportunity
The offer couldn't be simpler. Customers quote and buy motorbike insurance through www.tescocompare.com before 30th April 2012. While quoting they enter their Clubcard number and after purchasing a policy will be awarded 250 points. See www.tescocompare.com for full terms and conditions.
Craig Monahan added: "We believe the partnership with The Bike Insurer will help Tesco Compare assert itself as the price comparison site of choice for Bikers and Tesco Customers alike. We appreciate our customers and the 250 Clubcard points promotion is our way of saying thank you."
In addition to bike insurance Tesco Compare offers a range of other services: It can also introduce people to comparison services for a number of other products including money, utilities and telecoms, as well a wider range of insurance products including car insurance and home insurance.
*Terms and Conditions of the 250 Clubcard Points Offer for Motorbike Insurance
250 Clubcard points will be awarded for motorbike insurance policies purchased from the 1st March to the 30th April 2012. The Clubcard must be in the policyholder's name and the Clubcard number must be entered correctly when completing the details on tescocompare.com. An online quote must be fully completed before purchase. Failure to do so will mean the points will not be allocated to the Clubcard holder's statement. Tesco Compare will notify the policyholder via email when the Clubcard points have been awarded. Points may be awarded up to ten weeks from purchase of the policy. If the policy is cancelled within two weeks of purchase then no Clubcard points will be awarded. Tesco Compare reserves the right to amend, vary or cancel these terms and conditions or to withdraw this promotion at any time. The Clubcard Scheme is administered by Tesco Stores. Tesco Stores are responsible for fulfilling points.
For media enquiries please contact:
Gemma Whitton: 0131 203 5516, or email gemma.whitton@tescobank.com
Notes to editors: Tesco Personal Finance Compare Limited (trading as Tesco Compare) is part of the Tesco Personal Finance Group Limited, the financial services arm of the UK's number one supermarket chain, which is fully owned by the Tesco Group. Tesco Personal Finance Compare Limited, registered in Scotland No.318925. Interpoint Building, 22 Haymarket Yards, Edinburgh EH12 5BH. Authorised and regulated by the Financial Services Authority.