Hoofddorp, the Netherlands, August 29, 2017 – Compact needn't mean compromise is the promise delivered on by the new Vivitek D4000 Series. With its condensed compact footprint and light 10kg weight, this laser projector is appropriately-sized for companies with medium sized corporate meeting rooms that want the performance of a powerful laser projector, but without the size and weight traditionally associated with them.
To meet their requirements, the D4000 Series – which comprises the DU4671Z, the DH4661Z and the DW4650Z – offers the choice of WUXGA, 1080p and WXGA resolutions while delivering a brightness level of up to 5,500 lumens. With its laser light source, the D4000 Series delivers up to 20,000 hours of operation time with minimum maintenance, thus providing users with peace of mind. Underpinning its inherent robustness, is an anti-dust sealed optical engine. This not only optimises light efficiency, but it has been designed to prevent dust and moisture from affecting the lighting and thermal system. This ensures customers have peace of mind knowing that image quality and a long lifespan are assured.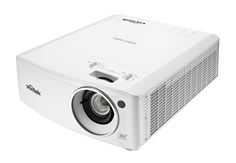 Vivitek DW4650Z
The D4000 Series also benefits from Vivitek's expertise in thermal management. As a result, the projector offers improved cooling efficiency and effectiveness, which brings two major benefits to users and to the longevity of the projector. First, the advanced cooling means the projector can operate with a slower fan speed, which results in it being far quieter and less obtrusive than other projectors. Second, the improved cooling protects the projector from high temperatures, extending its operating life.
With ease of installation ease in mind, the projectors are equipped with a 1.65x zoom fixed lens with Vertical and Horizontal lens shift, which also brings a new level of cost effectiveness to the D4000 Series. This makes its performance and image quality accessible to more potential customers. The lens shift capacity ensures placement flexibility, while the HDBaseT interface delivers long signal transmissions.
To kick-start meetings rapidly and limit productivity-compromising downtime, the models' compatibility with Vivitek's NovoConnect Solution allows for distributed display and control between PC, Mac and tablet devices for a completely interactive presentation and collaboration environment. The fully wireless communication enables content sharing across multiple devices and is compatible with Windows, Mac OS, iOS and Android operating systems.
For environments outside of the corporate business world, the D4000 Series also features DICOM* Simulation Mode, which makes it ideal for viewing grayscale medical images - such as X-rays - for medical training and medical seminar purposes.
Commenting on the introduction of the D4000 Series, Holger Graeff, General Manager EMEA, Vivitek, said: "With the D4000 Series, Vivitek has created a compact-sized and proportioned laser light source projector that's ideally suited for installation on the ceiling of mid-size meeting rooms. In additional to its small size, we've mated high-performance with low maintenance and robust durability to offer companies and IT departments peace of mind and the reassurance that they're making a long term investment. Furthermore, its price point makes its benefits accessible for many more potential customers to enjoy."
Key Features/ Specifications:
The series comes with choices of WUXGA, 1080p, and WXGA resolution with up to 5,500 ANSI lumens of brightness and 20,000:1 contrast ratio for clear, crisp and bright projection images
Great flexibility with 1.65x zoom fixed lens and manual horizontal and vertical lens shift
Image adjustment is made easy with 4 corner corrections, horizontal and vertical keystone corrections
Built-in 2x 5W audio speakers with multiple audio interface to ensure your message is well heard
HDBaseT interface for long signal transmission (except DW4650Z)
DICOM* Simulation Mode for medical training and seminars
Compatible with NovoConnect Solution for wireless presentation and collaboration
Eco friendly with automatic turning off function when there is no signal input for a period of time
Compact size laser projector ideal for corporate meeting rooms
*Note: These projectors are not medical devices, and the "DICOM Simulation Mode" cannot be used for actual medical diagnosis purposes.
# # #
Pricing and availability:
The D4000 Series will be available now with a five-year large venue laser phosphor warranty.
DU4671Z: MSRP excl. VAT = £3495
DH4661Z: MSRP excl. VAT = £3295
DW4650Z: MSRP excl. VAT = £2695
About Vivitek
Vivitek, a brand of Delta, offers an extensive line of visual display and presentation products. Vivitek's line of digital projection and display products incorporates the latest innovations and technologies to meet the market demands for education, business, home theater and large venue.
For more information about Vivitek, please visit www.vivitekcorp.com or www.vivitek.eu
About Delta
Delta, founded in 1971, is a global leader in power and thermal management solutions and a major player in several product segments such as industrial automation, displays, and networking. Its mission statement, "To provide innovative, clean and energy-efficient solutions for a better tomorrow," focuses on addressing key environmental issues such as global climate change. As an energy-saving solutions provider with core competencies in power electronics and innovative research and development, Delta's business domains include Power Electronics, Energy Management, and Smart Green Life. Delta has 163 sales offices, 64 R&D centers and 39 manufacturing facilities worldwide.

Throughout its history, Delta has received many global awards and recognition for its business achievements, innovative technologies and dedication to corporate social responsibility. Since 2011, Delta has been selected as a member of the Dow Jones Sustainability™ World Index (DJSI World) for 6 consecutive years. In 2016, Delta was selected out of 5,800 large companies by CDP (formerly the Carbon Disclosure Project) for its Climate Change Leadership Level.
For more information about Delta, please visit: www.deltaww.com
# # #
Contact:
Name Jolanda Medendorp
Agency Vivitek
Email jolanda.medendorp@vivitek.eu
Tel +31 6 31698229
*All brands, marks, or product names mentioned herein are trademarks of their respective companies and are referred only for explanation or descriptive purpose and to the owners' benefit, without intention of use or infringement.
# # #