Bucharest, Romania, 10th February, 2014 – Conectys, the leader in multilingual and multicultural outsourcing services, has been named as the BPO Firm of the Year – Rest of CEE, at the Central and Eastern Europe (CEE) Outsourcing and Shared Services Awards. Conectys was selected for the award by a panel of 19 international judges, beating a long list of blue chip and mid-sized companies.
Conectys has been recognised for its immense contribution to the development of the business process outsourcing services sector in CEE for 2013. The judges considered new customer wins, testimonials from existing customers, SLA fulfilment and service quality, governance, strategy and social responsibility initiatives from all applicants. Conectys has enjoyed strong commercial traction over the past year, delivering high quality, multicultural outsourcing services to more than 45 global clients.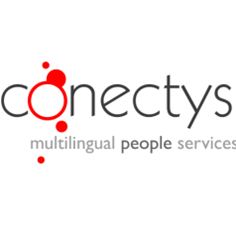 Conectys Logo
During 2013, Conectys signed an agreement with the world's largest travel site for multi-lingual content moderation, fraud detection and customer services, a leading European airline for call centre and customer relations services and a leading energy and utilities company for global, multicultural and multilingual customer services. This, together with other contract wins, has seen Conectys' employee base grow by an impressive 60 per cent in 2013.
Conectys' specialised outsourcing capabilities create significant competitive differentiation and brand value for organisations through enhanced efficiency. Not just because it combines talented multilingual teams, effective quality processes and proven web-based technology, but because it's culturally aware and can deliver new levels of personalisation and profitability. Clients that outsource customer support and key business processes to Conectys, quickly achieve operational efficiencies, higher levels of customer satisfaction and significant cost savings.
"We are honoured to receive this award as recognition of our strong growth and commitment to BPO best practice," said Arnold Cobbaert, CEO of Conectys. "Conectys represents a new breed of outsourcing vendor that is able to adapt its working culture and service capabilities to meet today's global challenges. We look forward to building on this award and will continue to strive for more success as a global outsourcing challenger headquartered in CEE."
-ends-
About Conectys
Conectys is a recognised leader in multilingual and multicultural outsourcing services. Its specialised outsourcing capabilities create significant competitive differentiation and brand value for global organisations. Conectys combines talented multi-lingual teams with effective quality processes and proven technology to deliver new levels of service personalisation and profitability.
Conectys has facilities in Belgium and Romania, providing a global footprint and international scale to telecommunications, travel, hospitality, media and entertainment companies.
Conectys is ISO 9001:2008 certified and PCI DSS Compliant. It has also been ranked a Top 10 Global Multilingual Outsourcing Vendor by leading analysts.
Editorial contacts
CCgroup, for Conectys
Sarah Wilson / Libby Cutress
Email: conectys@ccgrouppr.com
Tel: +44 20 7535 7217 / +44 20 7535 7237