Global Caliph urges Muslims to exemplify faith through compassion and love of humanity
23/Mar/2017
National Peace Symposium on 25 March 5.00 PM in London
Press Conference hosted by His Holiness Hazrat Mirza Masroor Ahmad, Caliph Ahmadiyya Muslim Community
The world's leading Islamic advocate for peace is using Britain's biggest mosque as a platform for a renewed call for Muslims to return to their true faith by serving humanity 'with the spirit of kindness and humility that is integral to Islam.'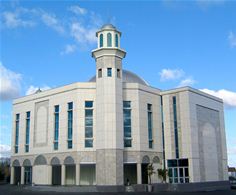 Baitul Futuh
"A religion which does not inculcate compassion is no religion at all," said His Holiness Hazrat Mirza Masroor Ahmad, the fifth Caliph of the Ahmadiyya Muslim Community quoting the words of the community's founder in 1908.
His Holiness will be addressing the National Peace Symposium on Saturday 25 March entitled 'Global Conflicts and the Need for Justice' at the landmark Baitul Futuh Mosque in Morden, south London.
In a stark warning to political leaders, His Holiness said: "The world is witnessing ever increasing conflicts and rather than seeking peace, governments are pursuing policies of isolation and self-interest.
"There is a growing sense of restlessness, injustice and instability. The progress made over decades to heal wounds and forge friendships is being cast aside in a wave of self-aggrandisement. As I have cautioned many times before these are perilous times and unless sincere efforts are made by all parties, a Third World War will become inevitable. The time for action is now, to work on the basis of justice for the sake of our future generations. Let us leave a legacy of peace and not of destruction."
And in a direct message to extremists and imams and mosque leaders who foment trouble and violence, he said: "No religion, least of all Islam, advocates disorder. Rather the Holy Qur'an states very clearly that God loves not those who create disorder. So, it is incumbent on all Muslims to be the promoters of peace, love and harmony. If Muslim leaders followed this noble principle, then it would create revolution in the hearts of people across the globe and act as a powerful antidote to extremism."
His Holiness has travelled globally to promote dialogue and understanding. He regularly meets presidents, prime ministers, other heads of state, parliamentarians and ambassadors of state.
Noting how the rise of nationalism and extremism fuelled by injustice, faltering economies and growing mistrust was pulling people and nations apart, His Holiness commented that, "I call on all people to cast aside their prejudices, hate and pride and to recognise their Creator Who is the Source of Peace. The message of all prophets was to serve God and serve mankind, so let us unite in this cause and rather than our actions creating poverty and destitution let us redouble our collective efforts to remove the suffering of the millions across the world. This is the need of the hour."
The National Peace Symposium is a key event of the Ahmadiyya Muslim Community held at the largest mosque in Western Europe and this year marks the 14th symposium to date. The event promotes a deeper understanding of Islam and other faiths and seeks to inspire a concerted effort for lasting peace. More than 800 guests from across the world attend the unique event including Secretaries of State, parliamentarians, diplomats, faith and civic leaders as well as representatives from numerous charities and faith communities.
The occasion also marks the award of The Ahmadiyya Muslim Prize for the Advancement of Peace, the international Ahmadiyya Muslim Peace Prize is awarded each year in recognition of an individual's or an organisation's contribution to the advancement of the cause of peace. This year's winner is Mrs Setsuko Thurlow, a survivor of the devastating atomic bomb that was dropped on Hiroshima, who has devoted her life to campaign against nuclear weapons. The prize will be presented by His Holiness at the symposium.
Ends
Contact details:
Name: Basharat Nazir +447703 483384
E-mail: media@ahmadiyya.org.uk
Mahmood Rafiq +447971 060 962
Twitter: @AhmadiyyaUK
http://peacesymposium.org.uk/
http://www.loveforallhatredfornone.org/