10 April 2012, Cambridge, UK; Melbourne Australia
Controllis, a UK based remote management system and DC power company has appointed C4i, Australian based integrated communications systems company, as its Authorised Distributor for its full product line in the Australasian region.
Specialising in telemetry and SCADA systems, Controllis has developed a range of controllers and software systems for the secure monitoring and remote control of power systems and other mission-critical assets. C4i designs, manufactures and integrates tailored communications solutions. The target market of the companies are aligned, with both focused on mission critical organisations from the government, emergency services, telecommunications and defence sectors.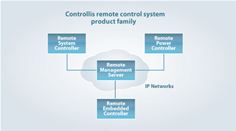 Controllis Product Family
"We chose C4i to represent our products in this region because of their extensive experience in developing, deploying and managing mission-critical systems" said Controllis CEO Simon Albury. "We are very pleased to be working with such a World-class partner: we expect to jointly generate a significant amount of new business in a range of market sectors".
C4i, part of the Australian stock exchange listed Longreach group, has designed, developed and deployed numerous secure communications systems for emergency services, airports and defence organisations throughout Australasia, the US and the Middle East. "The Controllis secure monitoring and control systems complement our existing product portfolio and will enable us to enhance our customer offering to new and existing customers" said C4i CEO Peter Harrison.
"Secure remote control and monitoring of a wide range of systems is increasingly important to businesses, government agencies and defence groups. This partnership further progresses our ongoing focus of 'network enabled' distributed solutions, which provide users with the benefits of improved security and safety, reduction in organisations' operating costs and improvements in business efficiency."
For further information refer to www.controllis.com and www.c4i.com
About Controllis
Controllis is based in the UK with headquarters in Cambridge, the heart of the Silicon Fen high-tech cluster. The company was founded in 2008 with a vision to provide remotely managed systems for a range of different markets. The Controllis team is made up of highly experienced engineers, software developers and technicians from the Telecommunications, Power Generation, Defence and Formula 1 Motorsport sectors. The company is privately owned and funded by the management team, a number of private investors and a UK based defence and aerospace company.
Controllis Contact: Simon Albury, CEO, Controllis Ltd, +44 (0) 1223 393 516
About C4i.
For over 20 years, C4i has specialized in delivering standard-setting communication solutions for mission-critical military and government customers around the globe. C4i is based in Melbourne, Australia, Reston, Virginia USA, and Singapore, and has representatives around the world. C4i is one of the publicly traded LongReach Group companies. A company with a global reach, C4i has the heritage, the knowledge, the commitment and the experience to adapt revolutionary solutions to all critical mission needs.
C4i Contact: Peter Harrison, Managing Director, C4i Pty Ltd +61 (3) 9926 1127