24 April 2012, Cambridge, UK; Durban, South Africa
UK based remote management system and DC power company, Controllis, has appointed South African based telecoms and defence communications company, Electrowave, as its Authorised Distributor for its full product line in South Africa.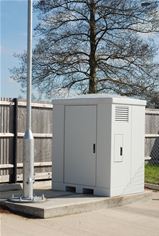 Controllis's Telgenco Quiet 48V DC Generator
Specialising in telemetry, SCADA systems and DC generators, Controllis has developed a range of hardware and software products for the secure monitoring, remote control and DC power supply for telecoms infrastructure and mission-critical assets. Electrowave has extensive electronic and electrical engineering experience in the telecoms and defence sectors and has managed development, deployment and installation of communications infrastructure for a wide range of customers in the Southern African region.
"We chose Electrowave to represent our products in this region because of their extensive experience in developing, and implementing mission-critical systems for the telecoms and defence sectors" said Controllis CEO Simon Albury. "Both companies skill sets are complimentary – this will enable us to rapidly bring a range of innovative new solutions into the South African telecoms and defence markets".
Electrowave was established in 1985, providing service to Telecommunications industries and Naval, Maritime (On-Shore & Off-Shore) in South Africa and around the world. After its initial defence focus the company expanded its range of activities to include design and installation of SCADA systems, base station infrastructure construction, electronics systems installation and site maintenance
"The Controllis DC Power products and site monitoring solutions will enable us to offer operators in South Africa solutions that provide back-up or off-grid power, and which monitor all critical aspects of remote sites. This improves the site resilience and security and reduces the number of site visits required" Said Electrowave Chairman Keith Pilkington. "Ultimately, this will reduce operator's total cost of site ownership and allow them to provide their customers with a highly resilient network service."
For further information refer to www.controllis.com and www.electrowavesa.com
ends
About Controllis
Controllis is based in the UK with headquarters in Cambridge, the heart of the Silicon Fen high-tech cluster. The company was founded in 2008 with a vision to provide remotely managed systems for a range of different markets. The Controllis team is made up of highly experienced engineers, software developers and technicians from the Telecommunications, Power Generation, Defence and Formula 1 Motorsport sectors. The company is privately owned and funded by the management team, a number of private investors and a UK based defence and aerospace company.
Controllis Contact: Simon Albury, CEO, Controllis Ltd, +44 (0) 1223 393 516
About Electrowave.
Electrowave was established in 1985, providing service to Naval, Maritime (On-Shore & Off-Shore) and the Telecommunications Industries in South Africa.
Electrowave (Pty) Ltd is a South African Black empowered Company of Electrical and Electronics Engineers where shares are held by IGODA Technology Holdings (Pty) Ltd, a Black Owned Company.
Electrowave has extensive expertise and experience in the Electrical and Electronic Engineering fields comprising of:
Naval Electrical & Electronic Systems

Commercial Marine Electrical & Electronic Systems

Support Vessel Management Systems

Product Design and Manufacture

Logistics Support and Training
Electrowave Contact: Keith Pilkington, Chairman, Electrowave (Pty) Ltd +27 (0)31 206 0910