UK based power and control system company Controllis has launched a new range of high performance remote system controllers that combine ARM, PIC and FPGA processors on one platform with built-in LTE modem and ultra dense GPIO.
"Our new controller has been designed from the ground up to combine a very high local processing capability with very low DC power consumption" said Controllis VP of Hardware Lance Davidson. "Because of the marketing requirements of compact footprint, we have utilised a large number of components more typically found in handsets. This has had an added benefit of further reducing power consumption. The large number of different digital and analog interfaces supported by the controller makes it a sort of "Swiss army knife" for control engineers".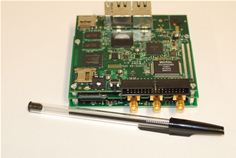 Controllis new remote controller cards
The controllers use a 1 GHz ARM Cortex-A8 processor with 4Gb of local RAM. They support a wide range of digital and analog interfaces to and from the controller including managed Ethernet, USB, RS485, RS232, CANBus, EtherCAT, 4-20 milliAmp, analog voltage, and thermocouples. The controller has been designed for a wide range of uses including monitoring and controlling remote plant; security control; monitoring moving vehicles, and; general process control. The controllers are offered in DIN rail mount, ruggedised MilSpec, and 19" rack mount enclosures to suit a wide range of applications. All controllers can support high grades of encryption suitable for utilities, law enforcement or defence environments.
Controllis develops and manufactures controllers and power systems for the Telecoms, Defence, Law Enforcement, Utilities and resources sectors. Since the company launched its first commercial products last year they have been deployed on five continents.
About Controllis
Controllis is based in the UK with headquarters in Cambridge, the heart of the Silicon Fen high-tech cluster. The company was founded in 2008 with a vision to provide power and remotely managed systems for a range of different markets. The Controllis team is made up of highly experienced engineers, software developers and technicians from the Telecommunications, Power Generation, Defence and Formula 1 Motorsport sectors. The company is privately owned and funded by the management team, a number of private investors and a UK based defence and aerospace company.