Cambridge, UK 26th February 2015 Cambridge-based high-tech power & control systems company Controllis Ltd has launched two new products for the telecoms markets ahead of next week's Mobile World Congress in Barcelona. The company has launched a new high-efficiency permanent magnet DC generator as well as an advanced compact remote-control solution.
DCPrimePower, the new Controllis generator is a high efficiency poly-phase system that will be made available as a branded product and for distribution through the Controllis OEM Partnership programme. "We designed DCPrimePower solution to simplify our product range and to offer world-class efficiencies" said Controllis CEO Simon Albury. With over 800,000 sites running on generators, telecoms operators are looking to energy efficient technologies to reduce their operating costs and improve their EBITDA. "Tower companies and telecom operators are increasingly turning to DC generators as part of an integrated solution with renewable sources or in stand-alone deployments" said Mr Albury.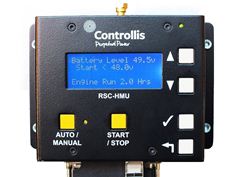 Controllis RSC-HMU
The company has also launched the newest generation of its remote site controllers. The Controllis Remote System Controller-Hybrid Management Unit (RSC-HMU) is designed to remotely control hybrid energy systems and generators. The RSC-HMU has sophisticated on-board processing to support a wide range of control regimes and charging algorithms for battery banks in real-time with and without solar and other renewable sources. Communications from the RSC-HMU is via an internal modem. "We have introduced various modem options for the RSC-HMU" said hardware Vice President Lance Davidson. "Although LTE capability may sound like overkill for a remote system controller, when our customers hear that they can remotely inspect their solar panels by high resolution video they immediately see the benefits". Vandalism and theft on remote sites is a real issue in many countries, and operators are increasingly turning passive and active systems to reduce its impact and also to provide evidence for authorities.
Founded in 2008 Controllis products are deployed in a number of countries on 5 Continents. The company Chairman is well known Cambridge serial entrepreneur Dr David Cleevely OBE.
Controllis is exhibiting at the mobile world congress in Barcelona at Hall 8 stand D21