PALO ALTO, CA and REDWOOD CITY, CA – AUGUST 16, 2011– Cooliris' new standalone immersive 3D ads business unit, AdJitsu, and Amobee, the company defining mobile advertising, today announce the launch of a new partnership that will enable big brands to deliver global cutting-edge 3D immersive ad campaigns for users on any mobile device and network. Amobee will implement Cooliris' Immersive 3D technology into its mobile advertising campaigns to give premium advertisers the ability to produce real-time 3D virtual product experiences.
Mobile advertising must be fun! When ads become interactive visual artwork, mobile advertising is incredibly engaging and effective," said Trevor Healy, Amobee chief executive officer. "We intend to leapfrog iAd and drive mobile advertising to an entirely new experience."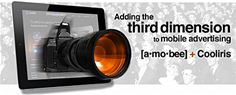 Amobee 3D Mobile Ads
Cooliris Immersive 3D Ads are differentiated by their unique immersive environments, instantaneous banner expansions and fluid touch interactions. Recently, Cooliris saw industry-breaking results with their Samsung's Galaxy SII smartphone campaign on iPad.
"Amobee's leading-edge mobile advertising platform makes them an ideal partner to bring our stunning immersive 3D ad experiences to the largest advertisers and customers worldwide," said Soujanya Bhumkar, Cooliris co-founder and chief executive officer. "Our alliance will raise the bar in mobile display advertising to unprecedented heights."
Riding on the enormous success of its Immersive 3D Ads, Cooliris also announces the creation of AdJitsu, a standalone business unit located in Palo Alto, to swiftly fulfill the demand from big brands for their premium ad campaigns during fall, holiday season and beyond.
About Cooliris:
Cooliris turns digital content into immersive visual experiences that increase user engagement and discoverability. Cooliris' consumer-facing product, LiveShare, is a free real-time media sharing application for mobile and web that makes it easy for groups to share privately or publicly. AdJitsu, Cooliris' newly created business unit, focuses on bringing the unparalleled Immersive 3D Ad experience to mobile display advertising. Headquartered in Palo Alto, Cooliris is venture backed by Kleiner Perkins Caufield & Byers, DAG Ventures, The Westly Group, and Deutsche Telekom's T-Venture. For more information, visit www.cooliris.com.
Andrea Heuer
Consort Partners for Cooliris
+ 1 917-886-5113
cooliris@consortpartners.com
About Amobee:
Amobee, the company defining mobile advertising, offers comprehensive, end-to-end mobile advertising solutions and services for advertisers, publishers and operators. Headquartered in Redwood City, California, with offices in Europe, Asia, Latin America and the US, Amobee enables its large customers to run targeted, leading edge mobile ad campaigns on a global scale with unparalleled ROI. Amobee has financial backing from some of the biggest names in venture capital: Sequoia Capital, Accel Partners, and Globespan Capital, as well as strategic investments from Motorola, Cisco and leading operators, Vodafone and Telefónica. To learn more, please visit www.amobee.com.
Jaime Tero
Onechocolate communications for [a•mo•bee]
+1 415-989-9803
amobee@onechocolatecomms.com