28th February, 2013, Ascot, UK: ZBD, the leading provider of fully graphic epaper display systems for retailers globally, today announced that Coop Nové Zámky, part of Coop Slovakia and a major retail operator in Slovakia, has chosen to install ZBD's epaper system, starting with the first of its largest supermarkets.
Working closely with NOV Technologies, ZBD's partner in the Czech and Slovak markets, Coop Nové Zámky took the decision to implement ZBD's epaper system in an effort to save time and money spent replacing paper price labels within the store. This is the largest installation of its kind in the Czech Republic and Slovakia with over 12,000 fully graphic epaper displays, all of which are managed wirelessly.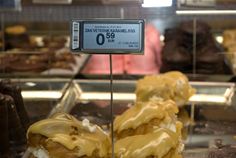 ZBD label at Coop Nové Zámky
Since installing ZBD's technology, Coop Nové Zámky can manage and update pricing, product information and promotions immediately, directly at the shelf. The system has proven to be particularly valuable when the supermarket launches a new marketing campaign, when prices can be updated automatically, helping to drive sales of in-store promotions with no back up IT support. Consumer response was very positive following initial research after the installation.
Prior to installing ZBD's epaper system, Coop employees spent hours updating paper price tags and dealing with errors, but thanks to ZBD's technology, store employees can manage pricing with a click of a button and devote more attention to keeping shelves stocked and serving customers.
Štefan Mácsadi, chairman of Coop Nové Zámky, said: "We have finally found a solution that ensures the correct price of products while satisfying employees and customers. The installation of electronic labels took place without any complications, and thousands of electronic shelf labels were installed in less than 48 hours. ZBD's epaper system is supported by its own software, which is connected to our existing IT systems."
Karol Horváth, head of supermarkets at Coop Nové Zámky, added: "The accuracy of pricing is no longer an issue. And ZBD's fully graphic labels can show other detailed product information in addition to pricing. Another advantage is that the electronic labels can automatically keep track of inventory information."
Franz Josef Buschmeier, Head of CEE (Central and Eastern Europe) for ZBD said: "The first large installation of a Coop supermarket in Slovakia is clearly another milestone for us in Central Europe! ZBD are very happy to be working with NOV Technologies and Coop in Slovakia, and we're looking forward to working with them in other stores in future."
ENDS
Notes for editors
About ZBD:
ZBD is a leader in the design and supply of electronic shelf edge labels and associated software solutions for the retail industry. The company has developed the next generation of LCD, creating high-contrast bistability that requires no battery power to retain its image. Its range of epaper displays provides retailers with a total store solution and the ability to manage and update pricing, product and promotional information at point of purchase, dynamically.
For further information on ZBD, http://www.zbdsolutions.com or follow ZBD on Twitter at @zbdsolutions.
Media contact at ZBD:
Sarah Todd
Tel: +44 (0)1344 292 110 or +44 (0)7753 573 490 (mobile) | sarah.todd@zbdsolutions.com
Judith Massey / Georgia Hanias Tel: + 44 (0) 207 6389571 | zbd@citigatedr.co.uk
About Coop Slovensko
COOP Group is the leading food supplier in Slovakia, with 2200+ stores across three retail formats.