The benchmark event for City communications, the Corporate & Financial Awards, has announced its shortlist.
Companies have long been aware of the importance of communicating with the City and those who influence the City. However, only recently has the need to address these audiences with a single voice become a necessity. But, with creativity, technology and best practice swiftly progressing, it is difficult for organisations to know where excellence lies. The Corporate & Financial Awards benchmark and celebrate excellence in all aspects of City communication – to the buyside, the analysts, business & financial journalists, and the wider stakeholder communities that influence them.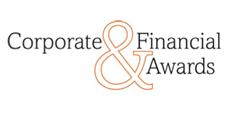 CFA logo
The Awards programme, in its second year, follows an inaugural event which saw Eversheds LLP and MHP Communications take home the premier awards of best in-house team and best agency, respectively.
This year's shortlist features the work of 15 agencies and 27 in-house teams in a comprehensive set of categories covering all aspects of City communications.
A member of the CFA's judging panel says: "I really enjoyed being a judge, as it gave me an opportunity to see what other people were doing and allowed me to use that as a barometer of what our company does."
Liz Foggitt, head of events at Communicate magazine, says: "The standard of entries this year was excellent. On the judging day, we were pleased with the interesting discussion and insightful comments the entries sparked among the judges. It's fantastic to see such high quality work both in traditional formats like printed reports and in innovation across digital and social media."
Entries are judged by a panel of industry experts. The Corporate & Financial Awards will be held on 18 June at the Victory Services Club in London. Book your table now, email liz.foggitt@communicatemagazine.co.uk, contact +44 20 7498 7008 or visit http://communicatemagazine.co.uk/cfa13.
The complete shortlist is as follows:
Best corporate website
Anglo American (Investis)
ArcelorMittal (Investis)
Glaxosmithkline (Radley Yeldar)
Herbert Smith Freehills (SAS London)
Telecity Group (Design by Structure)
Best online corporate newsroom
Centrica plc (The Group)
Best printed report
BP
Hays PLC (Conran Design Group)
Sainsburys (SAS London)
Shanks (Radley Yeldar)
WPP (Addison)
Best online report
Alcatel Lucent (SAS London)
Aviva (SAS London)
Centrica plc (The Group)
Pearson (Radley Yeldar)
WPP (Addison)
Best analyst/investor/press meeting
European Die Casting Group (CitySavvy)
VTB Capital
Best innovation
Social 360
Tullow Oil (Investis)
Best M&A/other transaction communications
China Chaintek United Co., Ltd (Cubitt Consulting)
Clinigen (College Hill)
Direct Line Group (Brunswick)
Rare Earth Global Limited (Abchurch Communications Limited)
Best use of digital media
SABMiller (World Television)
Best management of corporate & financial media relations
Avanti Communications (College Hill)
Bloomberg New Energy Finance (Cubitt Consulting)
Travelodge (RLM Finsbury)
Best management of investor and analyst relations
Cookson (MHP Communications)
Direct Line Group (Brunswick)
European Die Casting Group (CitySavvy)
Best ongoing communication with overseas investors and/or media
VTB Capital