Thursday 6th April 2017 Corsham Institute (Ci) is delighted to announce the appointment of Rachel Neaman as its first Chief Executive Officer. She will take up the post on 1 May 2017.
Neaman is currently a consultant at the Tech Partnership, the network of employers collaborating to create the skills for the digital economy. She was previously Director of Skills and Partnerships at Doteveryone, the digital organisation founded by Baroness Martha Lane Fox to make the internet work for everyone, and before that was Chief Executive of Baroness Lane-Fox's digital skills charity Go ON UK, which merged with Doteveryone in April 2016. Prior to joining Go ON UK she was Digital Leader and Head of Profession for Digital at the Department of Health, responsible for digital strategy, policy and transformation. From 2013–16, Neaman was Chair of Digital Leaders, the UK's premier platform for expert opinion and networking on digital transformation, and is now a non-executive member of the Advisory Board under the new Chair, Lord Francis Maude. She is also a non-executive member of the DigitalHealth.London Advisory Board. Neaman was voted 20th in Computer Weekly's list of 50 Most Influential Women in IT 2016.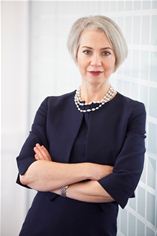 Rachel Neaman
Jeffrey Thomas, Founding Chairman of the Corsham Institute said: "Rachel's extensive senior leadership experience in the public, private and not-for-profit sectors in the UK and internationally makes her the ideal choice to lead the Institute as our first Chief Executive Officer. The Corsham Institute was founded to gain a better understanding of the opportunities and challenges afforded by our digital society. We are delighted to welcome Rachel at this formative stage in our development. She is uniquely qualified to deliver on our vision to establish the UK as a leading digital economy."
Karen Price, CEO of the Tech Partnership said: "I'm delighted to see that Rachel will be leading the exciting programme of work at the Corsham Institute. This appointment is very good news for employers and the broader digital community and I look forward to continuing to work with Rachel in her new role."
Rachel Neaman said: "I am hugely excited by the opportunity of working with the Corsham Institute. I strongly believe Ci has a major role to play in creating the inclusive, citizen-centred digital society that we so badly need in an age where personal data has become a commercial commodity, information is manipulated by algorithms, and individual privacy has lost its meaning. I have been extremely impressed by the amount that Ci has accomplished to date as well as by its ambitions for the future. I look forward to building on these achievements and helping Ci accelerate a digital society and economy in which all can thrive."
Notes to Editors:
The Corsham Institute (Ci) works to create an inclusive digital society which is citizen-centric and trusted. We believe that digital has the power to demonstrate positive social and economic impact through greater community participation.
Ci creates the environment to explore ideas and opportunities that will shape our digital future. We do this by making connections, building networks and accelerating change through thought leadership, partnerships and collaborative programmes.
Contact: Claire Alexander, Chief Operating Officer calexander@corshaminstitute.org 01249 700482