Crocus Consulting (www.crocus-consulting.com), an Oracle Gold Partner, has launched a Global Payroll Special Interest Group (SIG). The SIG which brings together HMRC (Her Majesty's Revenue & Customs), Oracle and many of the UK's leading employers will provide users of Oracle's PeopleSoft's Global Payroll with an on-going forum to question developments and to discuss issues of shared interest. Members of the Crocus Global Payroll SIG attending the inaugural client hosted event at Michelin in Stoke-on-Trent include senior payroll systems managers from the Banking, Retail, Recruitment and Industrial sectors.
Central to the on-going discussions held by the SIG will be the fundamental changes to payroll systems and processes which underpin the UK Government's strategic reform of the administration of tax and the incoming Universal Benefit system. In addition to managing the day-to-day demands of the business, Global Payroll users must also implement far-reaching changes to the way payroll is managed and introduce 'Real-time Information' (RTI), the process by which employee payroll information is now to be reported to HMRC.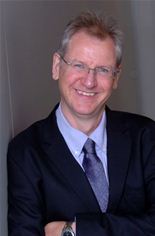 Chris Smith
Crocus Consulting has worked closely with HMRC on these issues for over two years, providing advice and feedback on both RTI and Auto Enrolment. As an Oracle Gold Partner, Crocus felt it was in an ideal position to draw all the key parties together by creating a SIG based environment in which all could share experiences and in which Oracle PeopleSoft users could consult with HMRC, Oracle and Crocus simultaneously.
Commenting on the launch of the Global Payroll SIG, Chris Smith CEO of Crocus Consulting noted, "We were led by market opinion here, as we were approached by a number of major financial organisations who are aware of our on-going relationship with HMRC. There was a clear need for a voluntary discussion forum for the good of the industry and establishing a SIG was an ideal method of creating a level playing field for all. The success of this format is already proven by the number of major organisations who are participating and therein keen to make a contribution. It is also very apparent that the group is keen to expand. Indeed, all the organisations involved are very aware of the enormity of the changes and the potential ramifications for business. As a result they are extremely interested in linking up with other informed organisations that can share expertise and highlight best-practice.
"We are exceedingly grateful to both Liz Wilson of Oracle and Jane Brothwood of HMRC for getting involved in such a proactive way and providing such highly informative figures and information. We are also very grateful to Michelin for hosting the event at their excellent conference facilities in Stoke."
Anyone interesting in joining the SIG should email: GPSIG@crocus-consulting.com
Ends…
About Crocus Consulting (www.crocus-consulting.com)
Crocus Consulting was formed in November 2000 by four of the most experienced ERP consultants in the UK. Crocus is a certified Oracle Gold partner.
Crocus has three strands to its business:
Application support centres based in Milton Keynes and Leicester
A consulting division delivering I.T. projects to large businesses
A software sales division concentrating on delivering effective solutions to small and medium enterprises
The company's proven experience, combining technology, business and management expertise, enables clients to minimize disruption and gain maximum competitive advantage from implementation.
For further information, please contact either:
Chris Smith
Crocus Consulting
+44(0) 116 204 4890
chris@crocus-consulting.com
www.crocus-consulting.com
or
Leigh Richards
The Right Image
07758 372527
leigh.richards@therightimage.co.uk
www.therightimage.co.uk