Leading TPM Provider offers Partners Independent Maintenance & Unparalleled Services Expertise to assist with planning, migrations, Cloud enablement, extension of infrastructure and assets.
RICHMOND, UK. – 20th November 2019 – Curvature, the world's largest provider of third-party maintenance and multi-vendor network and data centre IT lifecycle services, has announced an increased focus on channel partner expansion across the UK.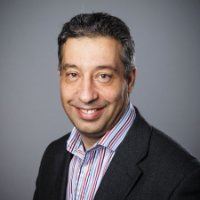 Christo Conidaris, VP Sales EMEA, Curvature
"We are encouraging partners to offer our highly profitable professional services to increase incremental value, standing and footprint within their existing customers. Using Curvature, partners can now confidently and expertly offer ITAD, Remote Hands, IT Discovery and Third Party Maintenance services." noted Christo Conidaris, VP Sales EMEA, Curvature. "Our 2020 plans include a doubling of our UK partner base by allowing partners to front and extend service offerings to customers but without incurring the overheads of their own PS group, with engineers guised as their own, if partners elect. By offering additional services to their key customers, resellers can get even closer to helping the end user reaching their core IT objectives outside of just selling hardware. We think this is compelling in this highly uncertain economic climate."
As with all truly effective partner programmes, Curvature considers transparency and clarity top aims. Full transparency creates trusted partnerships, which in turn leads to increased deal recognition and mutual remuneration. In the past year, Curvature has set the stage to deliver outstanding channel engagement. In early 2019, it invested in a dedicated Channel Management Team based in London to focus and build the UK Mid-Tier channel. Additionally in the past month, Curvature unveiled its innovative Partner Portal, https://partners.curvature.com/, a 2 click easy access portal that offers deal registration, sales tools, thought leadership and industry trends within an app interface for a one stop channel portal and end user need identification tool that extends across all use case scenarios.
Oliver Mason, from Curvature partner, CAE, comments. "Working to manage our global business at CAE, one of the difficulties we have faced in the past is the provision, management and communication of engineering resources across numerous geographies and time zones. What the portal and strategic partnership with Curvature have facilitated, is for CAE to manage a large number of global clients spanning 19 countries and 32 offices. Access to the Curvature portal has enabled us to scale our global business faster than ever and to take care of our customers quickly and accurately. We look forward to seeing this scale further as the partnership continues to mature."
The last words go to Ricky Patel, Channel Manager, UK and Ireland, Curvature. "We're really making headway as we help partners explore new avenues to create margin and inherent value. From joining partners on one-off projects that require that extra resourcing to ongoing complementary partnerships adding value within enterprise accounts, we are helping partners morph and power through these uncertain times and volatile exchange rates that impact IT spend."
About Curvature
As the global leader in independent IT support, products and services, Curvature is transforming how companies manage, maintain and upgrade equipment and support for multi-vendor, multinational networks and data centers. At a time of competing IT priorities and digital transformations, companies need to be nimble, efficient and smart in how they invest in IT and business innovation. A strategic partner with more than 15,000 organizations globally, Curvature specializes in delivering 24x7 global technical support, advanced hardware replacement, and complete lifecycle management of networking and data center equipment under one global contract from locations in the Americas, Europe and Asia. For more information, please visit www.curvature.com.
# # #
For Further Information:
Sharon Munday, Director
On Your Case Ltd on behalf of Curvature
sharon@onyourcase.co.uk
+44 23 9311 4100