Session takes attendees on Schneider Electric's cost cutting journey funding further IT innovation to achieve greater competitive edge.
CHARLOTTE, United States and RICHMOND, UK, 28 November 2017 - Curvature, the world's largest provider of third-party maintenance and multi-vendor network and data centre IT lifecycle services, opened Day 2 of the London, UK Gartner Summit by co-presenting a session alongside leading customer and advocate of TPM, Schneider Electric. The multinational energy and automation giant mapped out to the audience how they saved $ millions worldwide working alongside Curvature. Schneider Electric outlined their end-to-end journey on how they re-focused IT on providing innovation that boosted competitive edge, while at the back end, focussed on consolidation of multiple OEM support contracts into one moving away from OEM EOL recommendations, instead focussing on extending the life of their hardware assets across the worldwide estate through a Third Party Maintenance (TPM) model.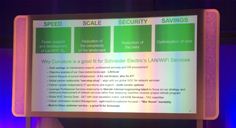 Gartner Infrastructure Summit
Dave Kelly, Global Network Operations Program Manager, Schneider Electric, told the 200 attendees in the conference session that successful move towards consolidation had been achieved from the outset through thorough detailed planning for future IT innovation and inward examination of existing infrastructures to ascertain how fit for purpose assets would be in the future. "As a Fortune 500 Global company, we strive to achieve competitive edge through increased productivity and we can only do this through innovation and automation. But at the back end through detailed planning and assessment, we have been able to achieve significant savings to fund this innovation through extending assets and support through one Third Party Maintenance provider, Curvature."
Glenn Fassett, EMEA General Manager, Curvature, co-presented the session alongside Schneider Electric. "This presentation drew largely from Schneider's own roadmap and experiences' delivering a significant cost saving journey tallied at over 46% over 3 years - that helped them to afford initiatives like digitalisation and IOT."
To start your own funding program for IT innovation, contact europesales@curvature.com or calling +31 (0) 20 449 6910.
About Curvature
As the global leader in independent IT support, products and services, Curvature is transforming how companies manage, maintain and upgrade equipment and support for multi-vendor, multinational networks and data centres. At a time of competing IT priorities and digital transformations, companies need to be nimble, efficient and smart in how they invest in IT and business innovation. A strategic partner with more than 15,000 organisations globally, Curvature specializes in delivering 24x7 global technical support, advanced hardware replacement, and complete lifecycle management of networking and data centre equipment under one global contract from locations in the Americas, Europe and Asia. For more information, please visit www.curvature.com.
Company Contact
83-84 George Street Richmond-upon-Thames TW9 1HE
Andrea Arnold, T: +44 208 614 7900, aarnold@curvature.com
EMEA Press Contact
Konzept PR GmbH / KPR Global,
Michael Baumann, T: +49-821-34300-16, mbaumann@kprglobal.com
UK Press Contact
KPR Global,
Sharon Munday -T: +44- (0)23 9311 4100, smunday@kprglobal.com