Users can now instantly send and receive money using just a phone number
London, UK, Tuesday, 4th April, 2017 – Azimo, the international money transfer service, has today launched an industry-first feature that will revolutionise how money is sent and received.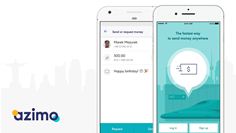 Azimo new in-app feature screenshots
Azimo's new in-app feature enables customers to instantly request, send and receive cash internationally simply using a mobile phone number. The offering - which has the potential to benefit 793m people based on Azimo's global footprint - will fundamentally change the money transfer market as customers no longer need to input tricky account details or IBAN numbers in order to send money.
Using the revolutionary service, Azimo users need only choose one of their phone contacts to send them money. Their recipient will then receive an SMS with a link to download the Azimo app and claim the money. Sitting within the current Azimo app, this innovative, one tap technology brings cross-border transfers bang up to date, with the fastest, simplest process yet.
"One of the most difficult things about sending money abroad is knowing all the details of the recipient upfront. Different countries require different information to be inputted at the time of transfer such as IBAN's and bank routing numbers. Not everyone knows how to find that information, let alone what some of the numbers should look like", explains Michael Kent, Co-Founder and CEO of Azimo.
"Our new feature has been designed to be as intuitive and simple as possible, enabling a more frictionless experience for customers when transferring money abroad. We feel very strongly about the importance of an innovative, fast and cheap service for our customers. Finance has been truly digital, now it's truly mobile."
Azimo's 'request' functionality brings recipients into the process for the first time. Now a request for transfer can be made through Azimo's secure, intuitive app that empowers them to control their part of the process-whether they are requesting money to pay an emergency bill or to treat a loved one.
With a business servicing over 190 countries across the globe, Azimo has the largest digital money transfer network in the world, and, is continuing to grow. The launch of the new feature in Eurozone countries today, puts the company at the forefront of innovation with mobile-first payments.
Alongside this European launch, Azimo are also rolling out their Request functionality to Poland, the US and Canada. The full offering will roll out across the majority of Azimo's extensive network throughout the year.
The convenience of using mobile phone numbers to transfer money isn't limited to international payments and users can use the new feature domestically as well, so Azimo's target market extends to anyone who needs to send money whether sending money overseas for support or paying friends back for a meal.
Existing Azimo app users will see the new functionality as part of the latest update. New users can download the app on the App Store or Google Play. To celebrate the launch, all international and domestic transfers sent to phone numbers are free.
-Ends-
Notes to Editor
About Azimo
Launched in 2012, Azimo is the better way to transfer money around the world, touching millions of people's lives. Fast, simple and safe, Azimo has the largest digital network in the world, enabling customers to send money to over 190 countries from any internet-connected device.
www.azimo.com