YouCam Makeup Launches Supermodel Inspired Looks: Are you a Cara or a Kendall?
London - February 12, 2015 - CyberLink Corp. (5203.TW), the world's leading consumer multimedia software company, today announces that its popular YouCam Makeup app has launched the latest batch of preset makeup looks inspired by Fashion Week 2015. Users can now virtually try-out looks inspired by some of their favourite supermodels, including Cara Delevingne or Kendall Jenner, and then apply the looks to their own selfies and photos [1].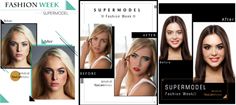 YouCam Makeup
CyberLink, the creator of YouCam Makeup, analysed hundreds of supermodel makeup styles and selected some of the trendiest looks for the upcoming fashion season. Styles available on YouCam Makeup include Cara Delevingne's signature golden smokey eye and Gisele Bündchen's sun-kissed makeup glow, among others [1].
Users can enter their supermodel makeup inspired selfies into a global competition to show off their best Fashion Week Supermodel Look. To participate in the competition, users simply download the free YouCam Makeup app, create their favourite supermodel look and share it on Facebook with the hashtag #YouCamSupermodel. They can also submit camera-ready looks on Twitter or Instagram until the competition ends on March 24, 2015.
"2015 Spring Fashion Week is expected to feature more fashion friendly technology than ever before this year, and YouCam Makeup perfectly illustrates how technology is transforming fashion and style," said Alice H. Chang, CEO of CyberLink. "We can now experiment with an unlimited number of makeup looks in seconds – this is smart and empowering, the very essence of what fashion is all about."
Downloaded more than eight million times since its launch last summer, YouCam Makeup harnesses the latest facial detection and skin analysis technology to precisely apply realistic cosmetic looks on selfies and other photos. The app features a complete set of true-to-life makeup effects, including eye shadow palettes, mascaras, eyeliners, lipsticks, blush and foundation, as well as other skin beautifying effects.
App Availability
YouCam Makeup is available for free on the App Store and Google Play. YouCam Perfect is also free on both the App Store and Google Play.
To learn more about CyberLink's family of mobile apps, please visit CyberLink App Zone.
[1] Cara Delevingne, Kendall Jenner, and Gisele Bündchen are not affiliated with CyberLink in any way.
About CyberLink
CyberLink (5203.TW) is a world leader in multimedia software design. Since 1996, CyberLink has transformed how people enjoy and create media on PCs, mobile devices and in the Cloud. The company's award-winning products are sold to all major PC manufacturers as well as millions of customers worldwide. Headquartered in Taipei, Taiwan, CyberLink also runs regional operations through offices in the US, Japan, Europe and Asia-Pacific territories. Further information about CyberLink can be found at cyberlink.com.
#####
Press Contacts
Rafal Kwiatkowski or Diana Mitra at rafal@zaboura.com / diana@zaboura.com or by phone: +44-0203-588-0804
All companies and product names mentioned herein are for identification purposes only and are the sole property of their respective owners. Copyright © 2015 CyberLink Corp. All rights reserved.