Learning game where kids can explore a dinosaur island, learn amazing facts and turn their adventures into their own storybook
London, UK - 5 February 2015 - Independent developer Kuato Studios today announced the launch of DINO TALES™, its latest game for iPad, iPhone and iPod Touch. DINO TALES gives young 'dino-adventurers' freedom to explore an island teeming with prehistoric wildlife, through the eyes of 6 adorable baby dinosaurs.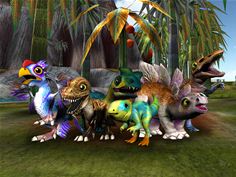 Dinosaur Group
DINO TALES is not just a game, but is also a beautiful storybook and an encyclopaedia rich with Jurassic facts and fictions. Children can be both adventurer and storyteller as the game captures each play session - collating them into an enchanting digital Storybook, to be shared and read with parents and loved ones.
Developed with kids, parents and educational specialists, DINO TALES is the first in Kuato Studio's TALES series. The vast island is filled with a wealth of paleontological facts, enough to satisfy the curiosity of even the most avid explorer. Using intuitive Word Wheels children can call upon Darwin, a wise talking dinosaur, who will happily answer thousands of questions - including the all important ones about dinosaur toilet habits.
Designed for children aged 4-10, DINO TALES also features 'Parent Corner' a pin-secure area where adults can set reading age, length of play sessions and receive email notifications of their child's latest 'Tale'.
GAME FEATURES:
Hatch 6 baby dinosaurs to play with and nurture
Explore a huge and incredibly rich 3D world with caves, forests, rivers and an erupting volcano
Use the 'Word Wheels' to ask Darwin, the talking dino any questions about dinosaurs
Play fun games and activities including the musical boneyard, river rapids, boulder bowling, lava slides and much more
Collect and learn about loads of different fossils and minerals
Turn each tale into a Storybook to be personalised and shared with others
Develop core skills including sentence construction, vocabulary, language and more
DINO TALES is powered by Kuato Studios' bespoke adaptive gaming technology. KAGE optimizes the game according to the players' past activities and allows kids to use simple everyday language in their questions. KAGE will be used for all the games in the TALES series, and will continue to evolve and grow from the children's questions and interactions.
DINO TALES retails for US$3.99 /GBP2.99 on the Apple App Store and includes six customisable dinosaurs.
The game is available for iOS devices at: itunes.apple.com/app/id923963949
------------------------------------------------------
Notes To Editors
A video trailer of the app is available at: www.youtube.com/watch?v=-Ux0rDcNd_o
Download the Media Pack: www.kuatostudios.com/media
More info about the game: www.kuatostudios.com/games/dinotales
Facebook: www.facebook.com/dinotalesgame
Text-to-Speech is from Acapela Group
About Kuato Studios
Kuato Studios is games studio capturing the excitement of learning through mobile games. Their mobile apps HAKITZU ELITE, a robot coding game, was lauded as a pioneering effort in this new market by key tech sector advocates such as Stuart Dredge from The Guardian. Kuato Studios believes that games, and the principles that underpin them, play a key role in engaging today's learners. The company focuses on skills - critical and strategic thinking, reasoning, creativity, innovation, memory retention, problem solving and collaboration - and then creates compelling games that foster the development of these skills. This is what they call Learnification: skills that drive learning, with play at its core. Kuato Studios is backed by Horizons Ventures, premier VC investors in Facebook, Spotify, Waze, Summly and Fixmo, with SRI International, the creators of Siri. http://kuatostudios.com
Media Contacts
Valentina Ciolino, dimoso, valentina@dimoso.com, +44 (0)207 033 2660
Steve Whiting, steve@kuatostudios.com