UK disaster recovery specialist today announces the launch of managed business continuity service.
The service is aimed at UK SMEs, many of whom until now have struggled to implement and maintain credible business continuity programmes. Databarracks' newly appointed executive chairman Mike Osborne commented: "I've been involved in business continuity for 30 years and given the advent of the modern digital-based economy, it's clear that businesses of all sizes are now facing an increasing demand from customers, regulators and the wider public to be always-on, always available and also resilient to cyber-attack.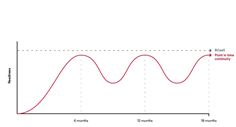 BCaaS Graph
"We've all become used to a 24/7 way of life. Businesses now need well-managed business continuity programmes more than ever, and yet many don't have the time, expertise, or budget to deliver these in-house. This is particularly the case for SMEs.
"Databarracks has the expertise to help. Major continuity incidents are thankfully a relatively rare occurrence - but they do happen. That means most organisations don't deal with them frequently enough to build up experience and can't justify the cost of bringing in permanent expertise. At Databarracks we deal with customer incidents, large and small, physical and cyber related, every day so we can help provide guidance on the reasonable assessment of risk and design bespoke mitigation and response strategies that work.
Osborne continued: "With reputations to protect and the hugely competitive environment enabled by the digital economy, holistic Business Continuity is incredibly important. Every organisation must be able to serve its customers, irrespective of any incident or disaster that it might be facing behind the scenes. That could be an IT outage, cyber-attack, damage to site from a fire or flood, or it could be something more operational like the loss of a supplier. So, that's why we're launching BCaaS.
"BCaaS enables you to meet the continuity demands of your customers and your audit and regulatory requirements, but most importantly, it will protect your reputation and reduce your risk of revenue loss from downtime. These are vital to SMEs in particular as they don't have the depth of resiliency and reserves inherent within large organisations. The great news is that our BCaaS offering will do this at a cost significantly less than trying to manage your business continuity in-house."
In-house vs a managed service
"With the average salary for a Business Continuity Manager in the UK at £66,000, an organisation needs to be relatively large before it will hire an expert. Until it reaches the need for a dedicated member of staff for continuity, the responsibility will usually fall to the Financial Director, Operations Manager or as is often the case, to the IT department. In most cases, they will do an admirable job but, they are not experts and as they juggle so many other responsibilities, continuity does not receive the attention it needs.
Osborne continued "Because of this we often come across scenarios where an SME has dabbled in business continuity, usually with the assistance of an ad-hoc external consultant. The problem with using a consultant is that they do some great work at specific points in time, perhaps every 12 or 36 months, but preparedness drops off significantly between those times. So, it is very common to see an organisation has a business continuity plan, but it was created 24, 36 or even 60 months ago. Often BC Plans haven't been tested or updated since they were created, in that time there have been significant changes to the business in the interim. That planning gap creates unexpected risk.
"There's a saying that 'There's only one thing worse than not having a BC plan in place, and that's having a bad one – one that's out of date!' and so with BCaaS we embed our experts within an organisation to deliver an initial risk assessment, to provide ongoing management of business continuity over a period of 3 to 5 years, and to ensure regular awareness and testing regimes and therefore maintain a high level or preparedness at all times."
Affordable Business Continuity, designed for SMEs
Osborne added: "One of the biggest complaints about business continuity is that it can be overly complex and seen as an expensive insurance policy. Actually, the best practitioners make BCP common-sense and simple to follow, teasing-out the knowledge that exists in the business and blending that with proven methodologies and industry best-practice."
"By aggregating our BC experts over multiple clients, we can deliver ongoing business continuity preparedness for a fraction of the cost normally associated with such a comprehensive approach, often this will equate less than the cost of an office junior.
"Our BCaaS service methods are also aligned with the Business Continuity Institute's Good Practice Guidelines and the International Standards, but we wanted to go further. We've taken these proven processes and techniques, and we've adapted them to meet the needs of our SME customers. There is no process for process' sake, just straight-forward direction and easy to follow actions that deliver immediate value back to the business."
The move from IT disaster recovery services to business continuity is, for Osborne, a natural transition for Databarracks: "Until now, we have been helping our customers with a vital, yet relatively small section of their business continuity. We've been handling the protection and recovery of data and IT infrastructure. Over the last few years, as our IT disaster recovery services have grown, we've identified a distinct need for additional holistic business continuity capability. We are confident BCaaS will finally provide credible continuity for SMEs at an affordable cost."
For more information please see: http://www.databarracks.com/services/business-continuity-as-a-service/
-ENDS-
About Databarracks:
Databarracks is the UK's specialist business continuity and disaster recovery provider.
We deliver ultra-secure, award winning data and continuity services from UK-based, ex-military data centres.
Databarracks is a member of the Business Continuity Institute, and has been named a "Niche Player" in Gartner's Magic Quadrant for DRaaS.
Contact:
Nick Bird/Beau Bass
Spreckley Partners Ltd
Tel: +44 (0) 207 388 9988
Email: databarrackspr@spreckley.co.uk