FARNBOROUGH - 22 July 2015 - Datum Datacentres, the Farnborough based provider of ultra secure, high resilience co-location data centres, today announced that it has achieved ISO 27001 transition to 2013 standard, meeting a comprehensive set of requirements to ensure information security.
The transition to ISO/IEC 27001:2013 builds on Datum's existing ISO27001, 50001 and 9001 accreditation and PCI DSS compliance to continue to demonstrate Datum's ability to deliver a secure and energy efficient environment for its clients' critical IT infrastructures. The new, more stringent accreditation for information security, ISO 27001:2013, aligns with the principles of ISO 31000 risk management standard and is UKAS accredited. Transition to the new standard further supports the security standards required by Datum clients providing a process driven approach to information security - and including clear requirements to consider all interested parties and their requirements relevant to information security.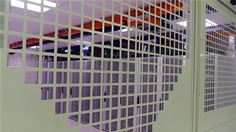 Hall cage
Commenting on gaining ISO 27001:2013 accreditation, Dominic Phillips, Managing Director, says: "For many Datum clients, the selection of our facility is strongly influenced by the levels of security we offer. Our successful transition to the new information security standard further supports that criterion with a focus on management of risks for both our own and clients' data. We are delighted to be able to offer clients ISO 27001:2013 to enable them to demonstrate to their board, their clients and other stakeholders that their critical IT infrastructure is co-located in an ultra-secure data centre."
For more information about Datum Datacentres and how our co-location can support your business critical IT, call us on 0845 568 0123 or e-mail info@datum.co.uk.
About Datum
Datum provides highly secure carrier and cloud neutral co-location data centres to enterprises and service providers. As part of the Attenda IT Services group, delivering always-on availability, robust security and enterprise class service is hard wired into our operations. Our data centres are trusted as secure environments for content, data and business critical IT to connect with a neutral choice of networks and cloud service providers.
Datum FRN1 has capacity for more than 1,000 co-location racks within a high security campus in Farnborough, which is fast developing as a strategic London-edge data centre hub. The facility incorporates a pressurised free-air cooling design that delivers enhanced environmental efficiencies and supports high density computing to 30kW per rack as standard. Always on availability is supported by resilience in both design and operations underwritten by a 100% uptime SLA with helpdesk and remote hands services which are available 24x365.
Press Contact:
Lexie Gower
T: 0845 5680123
E: lexie.gower@datum.co.uk