21st April, 2016. London, UK. Dawson, the UK designer and manufacturer of an innovative antenna for transmitting communications to Eutelsat Broadband's KA-SAT satellite above Europe, has been awarded the Queen's Award for Innovation.
The Eutelsat approved GC- Zero 70K KA-SAT Antenna is self-pointing and can be operational with one click and within one minute. It is designed to enable broadcasters, providers of emergency services and organisations with mobile data requirements to easily establish VoIP and data connection services as well as transmit full broadcast quality HD signals wherever they are located.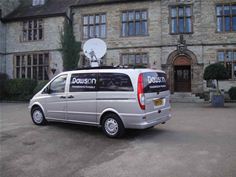 Award Winning GC- Zero 70K KA-SAT Antenna
Dawson's antenna is also used for satellite news and data gathering across Europe and the Mediterranean Basin with Eutelsat Broadband's simple and cost-effective NewsSpotter service. The equipment enables the transmission and reception of real-time, high-quality video, images and data from any location.
Dawson's award winning antenna is used today in multiple applications throughout the UK and Europe. The antenna has helped bring mobile library services to remote parts of Wales as well as mobile banking to isolated areas of Scotland. Emergency services are also able to use the connectivity provided by Dawson's GC-Zero 70K antenna to communicate between headquarters and emergency locations such as flood zones. It is also used by broadcasters all over Europe to provide hundreds of live programmes every day.
Ian Dawson, Managing Director and Founder of Dawson said: "We are very pleased that our innovative product has been recognised by the awarding committee and that we have demonstrated that a great British company can lead the world in innovation and product design. Our GC-Zero 70K KA-SAT antenna is designed to help broadcasters, corporate companies, emergency services and individuals with their mobile communication requirements."
Notes for Editors
About Eutelsat Broadband
Eutelsat Broadband provides satellite broadband services to residential and professional markets, as well as to broadcasters, across the European continent, North Africa and large parts of the Middle East. Its residential product tooway™ is the best in class satellite broadband solution and a unique cost-effective alternative to terrestrial access technologies in unserved and underserved areas, with download speeds up to 22 Mbps and upload speeds up to 6 Mbps. The connectivity needs of corporate customers and telcos are also catered for through the tooway business product line and its VNO and VPN solutions. Eutelsat Broadband also provides the latest IP based satellite news gathering solutions, with its NewsSpotter service. For more information, visit: www.eutelsatbroadband.com.
About Dawson
Dawson is one of the largest manufacturers of KA band mobile satellite antennas in Europe and provides a range of innovative vehicle based transmission solutions for broadcast, emergency services, military, broadband and IP usage.
With headquarters in the Heart of England, Dawson has been at the forefront of antenna design for over 19 years. Approved for use by Eutelsat and other satellite owners, Dawson's auto acquire antenna is one of the fastest deploying in the marketplace and does not require a satellite engineer. Dawson also provides clients and channel partners in the U.K., Europe and the U.S.A. with a full range of mobile transmission equipment and end to end broadcast and communication solutions through its KASE and Flat Packed Truck product range.
For further information:
Ian Dawson
Ian.dawson@dawson-dynamic.com
Tel: +44 1789 765 850
www.dawson-dynamic.com