6th August 2014, London – SalesMethods, a premium Salesforce partner, which specialises in delivering software and services, to drive high performance sales in Salesforce, has been selected by De Vere Venues, the number one provider of training, conference and event venues, as its sales enablement software provider.
De Vere Venues has purchased 50 licenses of SalesMethods' Plan2Prosper, Plan2Close, OrgChartPlus and Competing Forces. The technology, running over Salesforce CRM in the Cloud, will enable the 50-person UK sales team to better achieve their aggressive revenue growth targets, which amounts to a 20% increase per salesperson.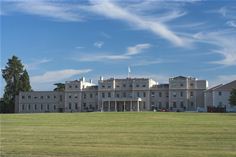 De Vere Venues
The sales methodologies and tools, all built natively on the Salesforce.com platform, will improve the quality of the sales information gathered for De Vere Venues' clients, and provide a consistent format to support the management of and selling to their clients.
Alison Jenkins, Director of Business Development, De Vere Venues said: "We are delighted to be working with SalesMethods, and to have them support our sales growth ambitions. We selected SalesMethods due to their strategic thinking, deep expertise around high performance selling, the flexibility of the technology to support our unique business culture and their collaborative approach."
Michael Conner, CEO, SalesMethods said: "Achieving significant revenue growth can be challenging for any business in today's competitive environment, but progressive organisations like De Vere Venues recognises that effective and flexible sales enablement software and methodology training will enable them to realise the full potential of their sales organisation."
He continued: "We are delighted that De Vere Venues has selected us to support them in achieving their sales targets, and have acknowledged that we bring the 'how to do' of sales to complement the 'what to do' of CRM. We look forward to supporting them with the right sales tools and advice to take their business to the next level."
The three-year contract was won in a competitive bid against local and global players.
One of the benefits of the new sales system is that internal account reviews now have a common structure and purpose, so that management has a consistent view of Accounts and Opportunity plans across the entire business.
The project implementation and training was completed within 2-3 weeks, and the final system is now up and running with all 50 UK salespeople. It went live in March 2014.
Notes to Editors:
About SalesMethods:
SalesMethods, established in 2011 and a premium Salesforce partner, drives high performance sales in Salesforce.com. As a new breed of sales software company, SalesMethods is challenging the legacy incumbents by helping businesses to deploy their chosen sales methodology, manage its evolution and realise the full potential of each sales organisation. By understanding the challenges in delivering change in the sales environment, SalesMethods enables organisations to more effectively win, keep and grow customers.
Find out more: SalesMethods
About De Vere Venues:
With over 30 venues throughout the UK, De Vere Venues is the UK leader in training, meeting and conferences venues. De Vere Venues incorporates a diverse portfolio of city based business centres, listed country houses and unique venues. With an elite team, state of the art technology and equipment, acres of outdoor space, impressive signature restaurants and guest rooms – De Vere Venues leads the way in terms of space for the business and leisure tourist.
Find out more: De Vere Venues
For further information, please contact:
Sharmee Mavadia
Elate Communications
Sharmee.mavadia@elatecommunications.com
07904 732 273