…AWS used for mail storage in the cloud offering easy access for clients…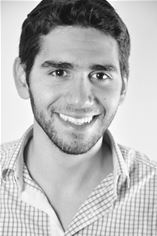 Yair Amzallag, Digidom's chief operating officer
October 9, 2019 – IBML announces today that Digidom, a company registration and domiciliation services company based in Paris, has selected an ImageTrac scanner and SoftTrac Capture Suite (SCS) software solution to underpin its digital mailroom operation.
With business growing 30% year on year equating to around 250 new clients added each month, Digidom now has a large customer base of around 8,000 organisations throughout France. It employs just 15 staff who assist them with all their company incorporation paperwork [1], with Digidom offering two 'virtual' registered office addresses in Paris - one of which is located near the prestigious Élysée Palace, the 18th century residence of the President of the French Republic.
Yair Amzallag, Digidom's chief operating officer explains, "When starting a business in France, you need to have a registered legal address for your company which is called a siege social. Where you rent this address, it's referred to as domiciliation. We're providing this to our customers – many of whom are start-ups - along with a post redirection service."
Given the large number of firms represented, unsurprisingly the size of Digidom's post bag is large with about 1,500 envelopes on average received every day. The IBML scanning and software solution is being used to automate all the mail sorting and scanning and was supplied by Alaris, a Kodak Alaris business.
Three mail service levels are offered: a basic package where customers collect their own sorted post from Digidom's offices, another where an email notification is sent to flag that mail has arrived with the actual envelopes then forwarded on every week and, finally, a fully digital offering [2]. This means envelopes are opened, the contents scanned, emailed and uploaded to an AWS cloud solution so that customers can access it securely online every day.
Historically, Digidom staff sorted the post by hand. They then used a desktop scanning and software solution – from a competitor - to scan the contents for those customers buying the premium package. This had been in place for some-time but the company wanted to upgrade to improve this key operational process and keep pace with business growth.
Amzallag explains, "Prior to installing IBML, QR codes on separator sheets were used to sort the mail per customer during scanning. This wasn't ideal. It's not that fast and the QR codes themselves are prone to error such that some documents had to be rescanned. And as we were reusing the separator sheets, it took a member of staff at least an hour every day to manually sort them after scanning and put the sheets away properly ready for the next day's run."
Alaris advised Digidom to move away from this laborious and inefficient way of working and install IBML equipment so that speeds and reliability could be increased and the business process changed to boost operator productivity.
Mail room systems changed to add intelligent automation
Yves Guéna, Alaris' sales consultant explains says, "What we're now doing is scanning all the envelopes. Using OCR, the IBML scanner reads the address and then prints an individual customer ID number on the outside of the envelope with the ImageTrac machine sorting mail into external pockets corresponding to the service level. In effect, we're using the actual envelopes as QR codes."
The result is that it is very fast to spilt and sort all the post based on the service package and easily segment it for those customers who have the premium digitised solution. Their envelopes are then opened and the contents put back through the IBML machine and digitised with the printed ID picked up by the scanner so that electronic images can be stored appropriately per customer. This data is then exported to AWS at the end of each day for sharing.
IBML ImageTrac scanners deliver ROI fast.
In terms of return on investment (ROI), the IBML ImageTrac scanner and SCS software has delivered fast:
All mail is now scanned quickly – within three hours – which has released staff to focus on other more important work;
Hiring an additional employee to handle the current workload has been avoided with all the obvious employment cost savings associated;
Headroom for growth is in place such that Digidom can easily cope with the onboarding of thousands of additional customers without the need for more post room personnel;
Read rates of 90% are being achieved – in other words, the OCR software automatically reads the majority of customer names on envelopes without operator involvement;
Moving forward, Digidom is planning to add more value to customers by launching invoice processing services which capitalise on the features included in the SCS software.
Amzallag says, "The IBML equipment is very fast and impressive and is helping us streamline all our business processes to maximise efficiency and keep costs down as we scale."
Ashley Keil, IBML's VP sales EMEA said, "I would encourage all organisations who have a lot of inbound mail to look at how intelligent scanning can streamline this operational overhead. It's not just large banks, solicitors or insurance firms who can benefit. Digidom operates in a niche area and is a relatively small organisation by headcount but it's successfully using our equipment to scan both envelopes and the paper contents to really achieve tangible commercial gains."
[1] In the UK, examples of this are a Memorandum and Articles of Association, certificate of incorporation, minutes of a company's first board meeting and VAT registration documentation.
[2] For legal reasons, Digidom sends these customers their physical mail too at a later date.
-ENDS-
About IBML
Headquartered in Birmingham, Alabama, Imaging Business Machines L.L.C (IBML) is a global provider of high volume intelligent information capture solutions operating in over 48 countries. IBML's solutions transform paper documents into actionable data with increased efficiency and quality at reduced cost. IBML's portfolio includes ImageTrac and DS scanners, IBML Capture Suite software, along with business and support services.
IBML's solutions are used by a wide variety of service bureaus, outsourcing specialists, systems integrators and end-user organisations, deployed in the most demanding document capture environments.
The company has a track record of customer success with industry leading customer retention rates of over 95% in banking financial services, healthcare, government services, outsourcing and more. For more information, visit www.ibml.com
For further information, please contact
Tom Herbst
Tom Herbst PR
T:07768 145571
Email: tom@tomherbstpr.co.uk