Hoofddorp, the Netherlands, June 13, 2018 - Convenience and flexibility are the benefits unlocked by Vivitek's new NovoDS Cloud, an optional cloud-based service that enables device and content management of Vivitek's NovoDS family of digital signage solutions.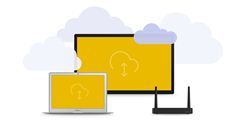 NovoDS Cloud
Vivitek's NovoDS range – comprising the NovoDS-4K, NovoDS and NovoDSmini – is an easy-to-use digital signage content creation and management solution that doesn't require any technical or programming skills. Capable of creating a real visual impact, NovoDS is ideally suited to a wide range of applications and environments, including those as diverse as government and public sector organisations as well as SMEs, retail, education, corporate and hospitality.

With the optional NovoDS Cloud service, users have the flexibility to pull digital signage content from the cloud to one or more NovoDS devices. The media content for the playlist can also be loaded from a Remote Media alternative, such as picture or video saved in a Google drive, Dropbox, or an FTP site and so on. It also gives users the means to remotely manage content - and control their devices - from anywhere over the Internet from a laptop, PC or a mobile phone via their NovoDS cloud account.
Other key features include:
A sophisticated device scheduling function - available via the Cloud service – that enables users to set up content schedules with precise timing.
An Announcements function. Displayed as preloaded rich text, an image file or a website page, it uses an overlay box to communicate announcements.
With security a priority for many businesses, NovoDS Cloud provides three levels of role-based access rights control, enabling different tasks to be assigned to different team members.
Commenting on the introduction of the NovoDS Cloud, Holger Graeff, General Manager, Vivitek EMEA, said: "The ability to control digital signage devices and content via the internet, adds a new dimension of convenience and flexibility for users in addition to the already easy to use interface of NovoDS. Additionally, System Integrators will benefit as they can manage multiple clients at once within their Cloud account by just connecting the local NovoDS devices to the Internet."
Naturally, the optional NovoDS Cloud is compatible with all of Vivitek's NovoDS devices - NovoDS-4K, NovoDS, NovoDSmini - with latest firmware, upgraded via internet. For NovoDS customers interested in NovoDS Cloud, they can visit www.NovoDS.com and register for a free trial.
Pricing
NovoDS Cloud service is available for £130 excl. VAT for a three-year-subscription for activation on one NovoDS device.
Prices for Vivitek's NovoDS family are as follows:
NovoDS-4K is £499 excl. VAT
NovoDS is £449 excl VAT
NovoDSmini is £229 excl VAT
About Vivitek
Vivitek, a brand of Delta, offers an extensive line of visual display and presentation products. Vivitek's line of digital projection and display products incorporates the latest innovations and technologies to meet the market demands for education, business, home theater and large venue.
For more information about Vivitek, please visit www.vivitekcorp.com or www.vivitek.eu
About Delta
Delta, founded in 1971, is a global leader in power and thermal management solutions and a major player in several product segments such as industrial automation, displays, and networking. Its mission statement, "To provide innovative, clean and energy-efficient solutions for a better tomorrow," focuses on addressing key environmental issues such as global climate change. As an energy-saving solutions provider with core competencies in power electronics and innovative research and development, Delta's business domains include Power Electronics, Automation, and Infrastructure. Delta has 163 sales offices, 64 R&D centers and 39 manufacturing facilities worldwide.
Throughout its history, Delta has received many global awards and recognition for its business achievements, innovative technologies and dedication to corporate social responsibility. Since 2011, Delta has been selected as a member of the Dow Jones Sustainability™ World Index (DJSI World) for 7 consecutive years.
In 2017, Delta was selected by CDP (formerly the Carbon Disclosure Project) for its Climate Change Leadership Level for the 2nd consecutive year.
For detailed information about Delta, please visit: www.deltaww.com and http://www.delta-emea.com
# # #
Vivitek Press Contact:
Name Jolanda Medendorp
Agency Vivitek
Email jolanda.medendorp@vivitek.eu
Tel +31 6 31698229